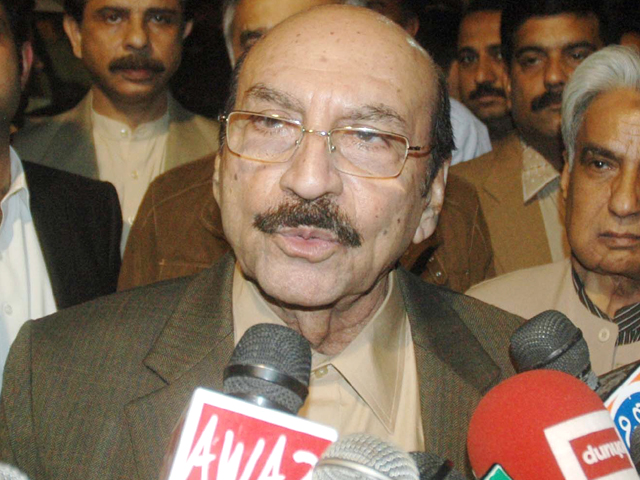 ---
The government has begun programmes to empower the weakest sections of society in the pursuit of fulfilling their promise of 'Roti, Kapra aur Makan', said the Sindh Chief Minister Qaim Ali Shah when speaking about the social sector spending allocations of the Budget 2010-11.

Education and health

The Sindh government has increased the Education Development budget from Rs5.9 billion to Rs7 billion along with Rs6 billion for boarding and comprehensive schools.

Besides, Sindh Education Reform Program worth Rs7 billion is under implementation.

The health budget has been increased to Rs6.3 billion. In 2007-8 it was only Rs1.2 billion and government raised this to Rs5.7 billion in the current year, which is said to be 300 per cent increase.

Welfare

The second phase of land allotment of 53,000 acres of lands has begun and Khuli Katchehries have already been held in different districts.

In the first phase, 5,000 landless women haris will be allotted the land. Subsequent to completion of the Darwat Dam, over 5,000 acres of land would be distributed among the women.

The CM in his speech said many international papers have been written on the government's land programme, quoting some lines from a report of the Huffington Post of UK, which called the effort a concrete attempt to reduce poverty.

Regarding the UC-based Poverty Reduction Programme, the government has initially has taken to pilot districts such as Shikarpur and Kashmore where they have extended small loans to over 33,000 poor women. Over 11,000 youth have been imparted skills and more than 2,500 low cost rural houses for poor have been completed.

The CM said that, under this intervention, more than 56,000 household have been provided with "Benazir Sehat Salamat Cards" through which an entire family is provided basic insurance for up to Rs25,000 per member. The programme is now being extended to eight more districts, says the government.

The CM in his speech said that the Benazir Bhutto Women Support Program government has disbursed a cash grant of Rs1,000 per month to over 150,000 poor women and this would reach to 300,000 women by the end of this month.

He said that government has trained 60,000 youth in last two years under Benazir Bhutto Youth Development Program and even the World Bank has appreciated this effort and has committed to provide 16 million dollars in the next year for this programme.

The CM said that, next year, the Gothabad Regularisation programme will target 2,000 historic and traditional goths and lease rights will be given which will benefit a population of 2.5 million.

Law and order

"We will continue to handle the law and order situation. In this connection we have increased police budget from Rs17.9 billion in 2007 to Rs29.6 billion for 2010-11. This is more than a 65 per cent increase," he said.

He said that in the upcoming fiscal year the government will provide an additional amount of Rs1.7 billion for improving the mobility of forces and upgrading equipment, arms and ammunition as well as for installing CCTV cameras.

Regarding jail reforms, the government had launched a special package of Rs300 million in current year to upgrade basic infrastructure. Rs200 million have been earmarked to carry forward these reforms in the next financial year.

Karachi schemes

Rs16 billion has been allocated for different schemes in Karachi.

Rs690 million has been allocated for the development of Lyari, down from last year's Rs871 million, while Rs1300 million has been provided for financing of Keamari, Malir and Rural Karachi through separate packages.

Other cities

Rs485 million was provided in the current year and Rs.1 billion is being earmarked for Hyderabad package for next year, said the CM.

"The government has released Rs2 billion in the last two years and has allocated Rs1.2 billion for Larkana package next year," he said.

The 'North Sindh Urban Services Corporation'

CM said that the North Sindh Urban Services Corporation has been operational and will now take over the water supply, sewerage, soild waste management services in seven cities in northern Sindh in Phase-1.

This will be followed by another cluster in central Sindh covering the cities of Nawabshah, Moro, Shahdadpur, Hala, Sanghar and Dadu. The schemes of water supply and solid waste management and drainage are under finalisation for the seven cities.

Regarding clean drinking water and sanitation programme, around Rs3.7 billion rupees have been allocated.

MPA funds

CM said that the development fund of each MPA has been enhanced from 10 million to 60 million.

Published in the Express Tribune, June 12th, 2010.
COMMENTS
Comments are moderated and generally will be posted if they are on-topic and not abusive.
For more information, please see our Comments FAQ