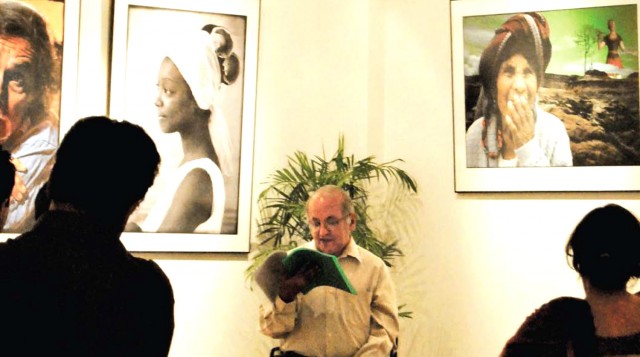 ---
KARACHI: A bureaucrat read out random anecdotes and fictional accounts, 'jinxed' with facts that are now part of history.

Iqbal Diwan, currently Sindh's transport secretary, discussed his newly published book 'Jisay Raat Lay Uri Hava' at The Second Floor on Friday and read out excerpts from a chapter titled 'Admiral', a witty satirical account of indigenous characters.

As a current bureaucrat, Diwan shared his experiences by writing about this fictional character 'Admiral', explaining how the wives of the armed forces officers enjoy the leisure of sleeping till late in the day and shopping at the Dubai Shopping Festival.

In another section of the chapter, he read out the piece on District Management Officers, who, according to him, gave plenty of dinner parties with either the intention to "please someone" or to get disassociated with someone.

He also introduced the mysterious Aunty M, part of Ayub Khan's era, who people praised as a hostess, as she organised great dinner parties and let people indulge in wine and alcohol to their hearts' content.

But she herself was never invited to any such dinner party.

Writing about the Mughal Emperor Bahadur Shah Zafar, he read out about how he hid in Humayun's tomb when the British were coming and taking over Delhi. He writes about Lord Macaulay, who himself brought the concept of literacy and education in the midst of the Indian people.

He also had accounts of Sher Shah Suri and his arrival as a ruler, as well as Sir Syed Ahmad Khan.

Diwan has written with an uncommonly natural flair, with the diction relating to the streams of consciousness. However, his work is neither autobiographical nor a script. Breaking away from his "bureaucratic shelf", he talked about "life and its philosophy in a natural style."

According to Asif Aslam Farrukhi, "This is one of the funniest and most readable books that have been published in the country in the last couple of years. Even though he has written for the first time, he has a command over Urdu."

Terming the book "un-put-down-able", he said that people are usually pompous in narrating a story, but he simply isn't. "He is absolutely funny."

Published in the Express Tribune, June 12th, 2010.
COMMENTS
Comments are moderated and generally will be posted if they are on-topic and not abusive.
For more information, please see our Comments FAQ