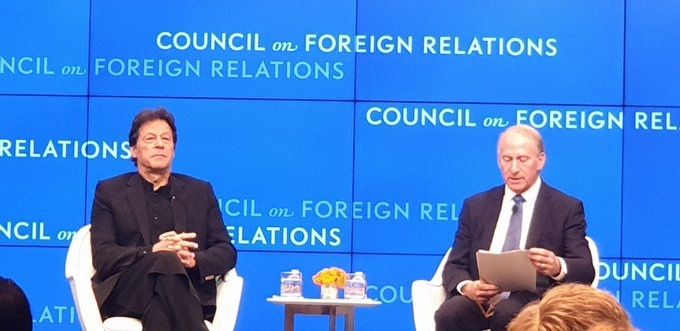 ---
KARACHI:

Prime Minister Imran Khan warned the international community on Monday that anything could happen when nuclear-armed neighbours Pakistan and India come face-to-face.

He was speaking at the Council on Foreign Relations, a New York-based think tank, where he touched upon on a wide array of issues.

PM Imran said both Pakistan and India were plagued by poverty and  the effects of climate change, adding that,"We must focus on combating these issues instead of fighting each other."


Prime Minister Imran Khan at Council on Foreign Relations just now , speaking to Richard Haas pic.twitter.com/50AnM25ZTl

— Maleeha Lodhi (@LodhiMaleeha) September 23, 2019


The prime minister said he had reached out to his Indian counterpart Narendra Modi in an attempt to reset bilateral ties, but to no avail.

He said there is a dearth of trust from New Delhi when it comes to starting a new chapter in bilateral ties.

Trump, Imran to tackle hot-button issues in New York today

The prime minister reiterated Pakistan's stance of trying to normalise relations with India.

He lambasted the Indian government for its repeated belligerence despite several peace overtures by Islamabad.

Kashmir issue

The prime minister said the United Nations came into being to look into situations like the one developing in Indian Occupied Kashmir (IOK).

"It has been over 50 days since eight million people have been cut off from the rest of the world," he said, referring to the information blockade and curfew imposed by New Delhi in the Himalayan valley.

"The least that I expect from the international community is to ask them to lift the curfew. It's inhumane..and a violation of every humanitarian right of the people of Kashmir," he lamented.

He said the United Nations Security Council gave Kashmiris the right to self-determination.

India's brutalities in Kashmir pose clear threat to regional peace: PM Imran

"This is why I have come here to implore the UN to help the people of Kashmir," he said.

He said that whenever the Kashmir issue is raised with New Delhi they say "there is nothing to talk about."


.@ImranKhanPTI: I am more worried about India right now than even Pakistan. Because India is not heading in the right direction. #CFRLive

— Council on Foreign Relations (@CFR_org) September 23, 2019


PM Imran said that until the Indian siege of Kashmir is lifted Islamabad would not engage in dialogue with its neighbour.

War on terror

Speaking on extremism in the country, he said, "Look back in the 1980's and the jihadis were hailed as heroes by the US for fighting the Soviet Union."

He said first these groups are created to serve our own interests and then we are demonised for doing so.

When asked if Pakistan gives sanctuary to terror outfits, he said,"This is not the case at all...Our country has made the biggest sacrifices in the war on terrorism...thousands of our citizens and security forces have been slain."

"You see there were links between Pakistan and the al Qaeda as we trained them. After the 9/11 attacks there was a 360 degree tilt in our stance and this didn't go down well with certain quarters," he explained.

Qureshi briefs ICG president on IOK situation

The prime minister shared that two suicide attacks were even carried out on former military dictator Pervez Musharraf.

The prime minister said that historically there is no way anyone can win a war in Afghanistan, adding that,"If you can't defeat an enemy in 19 years then when will you...the only option left is a political settlement."

Speaking on the recent talks between Kabul and Washington, he said, "This is a different kind of Taliban than before they are stronger now. It won't be easy but it is honestly the only way forward."

He said the Taliban would be unable to control all of Afghanistan the group also wants a peace agreement.


.@ImranKhanPTI: There've been no demands by China which restrict our sovereignty. #CFRLive

— Council on Foreign Relations (@CFR_org) September 23, 2019


"It was painstaking for Pakistan to see US-Afghan talks fall short just before it was going to be signed," he lamented.

PM Imran said he would discuss with US President Donald Trump why Islamabad was not apprised on the latest developments in the talks.

He said that the border with Afghanistan remains porous and it is difficult to keep a check on entry and exit.

PM Imran said that border fencing is now being done to stop terrorist elements crossing into our territory.

The premier said that the bloodshed in Afghanistan must come to an end as its people have been mired in conflict for the last 40 years now.

Chinese influence

When asked about how China has helped the economy, he said "China has given us a preferential trade agreement."

Premier Imran said Beijing came to Islamabad's aid when the economy on the verge of defaulting.

Quashing fears that Chinese investment poses a threat to country's sovereignty, he said, "How can they infringe on our sovereignty, maybe they might say not to have good ties with the US."

At Houston rally, Trump, Modi vow to fight 'radical Islamic terrorism'

He said China had never interfered in Pakistan's foreign policy or  domestic affairs.

"China has never demanded us to do anything," the prime minister said.


.@ImranKhanPTI: Since I've taken over, we have faced the biggest economic crisis. We have problems in Afghanistan. We are worried about what will happen now with Iran and Saudi Arabia. . . #CFRLive

— Council on Foreign Relations (@CFR_org) September 23, 2019


He lauded how China has been able to lift their population out of poverty, as well as, their handling of corruption in the government.

RSS ideology

"I am more worried about India right now probably more than Pakistan as they not heading in the right direction...It is truly frightening to see," he said.

He said the Rashtriya Swayamsevak Sangh ideology is spreading hate and discord in India at the behest of the ruling Bharatiya Janata Party government.

"This is not the India of Nehru or Gandhi," he added.

Rights of religious minorities

Touching upon the rights of minorities in the country, he said that,"We want to enforce the rule of law in Pakistan as every group is protected under it."

When questioned about rising religious extremism in Pakistan, he said that under Islamic principles each and every citizen has equal rights and he envisions a Pakistan where everyone is protected by the state.

He said the government is rolling out special programmes to lift women out of poverty in rural areas and empower them.

US-Iran tensions

He also called on Tehran and Washington to demonstrate restraint amid rising tensions.

"Pakistan has seen the toll war has and it is something no country wants," he said.
COMMENTS
Comments are moderated and generally will be posted if they are on-topic and not abusive.
For more information, please see our Comments FAQ