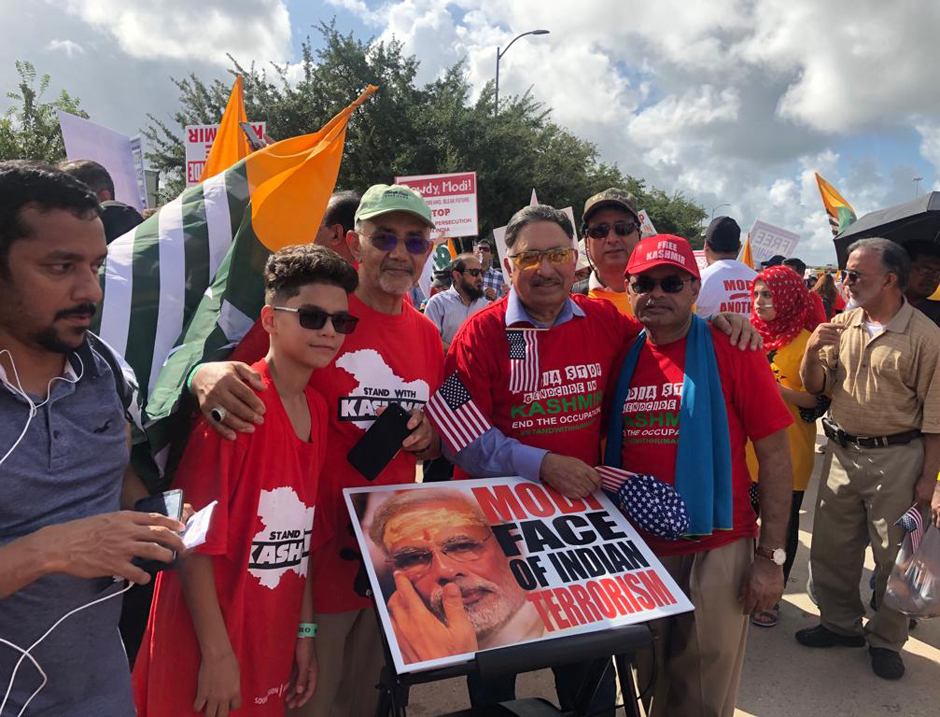 ---
HOUSTON: Thousands of Muslims, Sikhs and members of human rights organisations held a protest outside the 'Howdy, Modi!' rally in Houston, Texas on Sunday.

Protesters held banners, Kashmiri flags and chanted slogans against New Delhi's strong-arm tactics in occupied Kashmir.

The Indian diaspora in the US organised a gathering called 'Howdy, Modi!' for Prime Minister Narendra Modi at a football stadium in Houston, where US President Donald Trump also shared the stage with the Indian premier.

In pictures: Muslims, Sikhs come together against 'Howdy, Modi!' rally

Dressed traditionally, the protesters rallied outside the event and waved Kashmiri flags, urging the international community to help bring an end to the curfew and human rights abuse in Indian Occupied Kashmir (IOK).

The rally was organised by the International Humanitarian Foundation in collaboration with Amnesty International, Sikhs for Justice and Friends of Kashmir, Chief Logistics Coordinator Saeed Sheikh told The Express Tribune.

Pakistan Tehreek-e-Insaf (PTI) Executive Atif Khan, Friends of Kashmir President Ghazala Habib and Pakistan Association of Greater Houston President Haroon Sheikh  helped in organising the rally.

Members of the organising committee, MJ Khan, Asad Shah, Ilyas Choudry, Zaf Tahir and Tasleem Siddique, also played an instrumental role.

The Sikh community joined hands with Pakistanis to protest against New Delhi's barbaric treatment of Kashmiris and chanted slogans like "Sada Kashmir Sada Khalistan".

Protesters in Scotland condemn IOK rights violations

"This is the biggest rally Houston has ever witnessed," said PTI's US President Sajjad Burki, adding that the young generation of protesters played a significant role in making the rally a success.

"Modi has no place in the US, he should be pushed out," said an angry protester, Gupta Singh.

Gathered on the south side of NRG ground, a popular slogan 'Go, Modi, Go!' was chanted by children holding flags of Pakistan.

Around 50 buses were used to transport up to 7,000 people to the protest site. Petroleum tycoon S Javaid Anwar sponsored the buses. Over 20,000 protesters participated in the rally. Anti-Modi and anti-India banners were put up around the venue.

The expenses for the protest were borne by generous members of the Pakistani diaspora and strict security measures were taken to ensure safety for all.

.
COMMENTS
Comments are moderated and generally will be posted if they are on-topic and not abusive.
For more information, please see our Comments FAQ