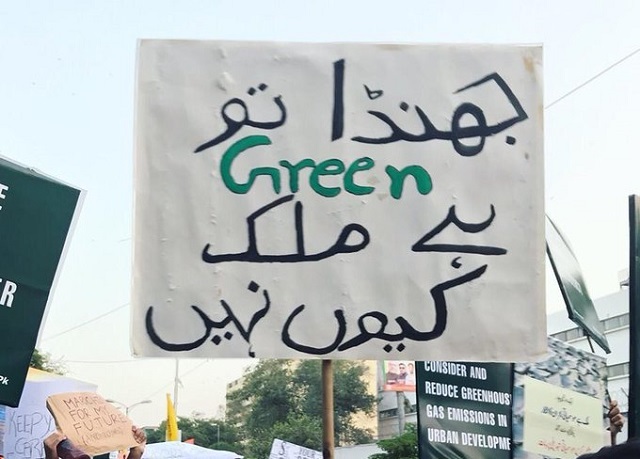 ---
The turnout at the climate change marches in major Pakistani cities on Friday was good. There were small but significant numbers. But given that Pakistan is among the countries most vulnerable to climate change, we need to do more to raise awareness and move people into action.  This is crucial.

There are some who say that this is not our problem. Or are simply ignorant and choose to look the other way. Can we afford this? Climate change is here and now.  In Pakistan, floods and droughts have become commonplace. Thanks to increasing temperatures, time and again we have seen rivers breakthrough and cause havoc on massive areas. This, in turn, forces the population to migrate, as we saw time and again in many parts of Sindh and Punjab. Much of this population does not go back to the rural areas and stays on in cities or peri-urban areas, which became part of a poverty cycle they can hardly break. Such migrations also come with a toll on health issues. There are outbreaks of disease, claiming hundreds of lives in the process.

Droughts are no less deadly. We have seen their effects in parts of Sindh and Balochistan. Livestock and crops have been lost. Hundreds have been made paupers owing to successive bad harvests. There is nothing to sell and hundreds end up in misery. Disease spreads. Take for example the spike in infant mortality rates in Thar. The government is helpless to act. It is not capable of meeting the challenge.

The drop in water levels in rivers means sea intrusion. Thousands of acres of arable land has been rendered useless in parts of Sindh owing to sea intrusion. It is a natural disaster of gigantic proportions. Thousands have lost their lands and the livelihoods. They have nowhere to go but to the cities to add to the already heavy pressure that cities face on their meagre resources.

These are three direct examples of how climate change is affecting things in Pakistan. The consequences of this include water and food scarcity. We have seen how water has become a scarce commodity in many parts of the country including Karachi. Food production has been affected and we are now facing scarcity in some commodities that we produce. That, in turn, puts pressure on prices. Most vulnerable possibly is the price of wheat, which in turn affects our staple food - and affects almost everyone.

In a nutshell, climate change is not imagined and it is not a Western creation. This is our actions and us. If people all over the world are asking their leaders to explain what is being done, we also should do so. We need to ask our government to declare a climate change emergency. We think that planting trees are the answer. They are not.  Pakistan has faced around 150 freak weather incidents as a result of climate change in the past 20 years. This includes flash floods, smog in winter, forest fires in summer, melting glaciers, freaky heat-waves and landslides.

The consequences of climate change are there for all to see. What are we doing about the smog that hangs over Lahore every winter? Have we made any serious attempt to address the rising levels of pollution in our cities? We are told that both Karachi and Lahore have risen in the international standing for the world's most polluted cities. The government sits and does nothing.

While the PM has issued some well-meaning statements, more needs to be done. We have to work on how to use our energy resources optimally. We need to fight pollution. We need to understand how to tackle the environmental challenges we face and that by going on as if things are normal will bring death and destruction in much larger numbers.

Apart from the government, it is the people who have to sit up and demand action. Civil society, which has largely kept silent on this issue, now needs to raise awareness and demand more.  Let us talk more about this on the media, in schools, in places of worship – wherever we can.  This is not a political issue – it is a national challenge. The future of the country is at stake. Time to act is now.

Published in The Express Tribune, September 23rd, 2019.

Like Opinion & Editorial on Facebook, follow @ETOpEd on Twitter to receive all updates on all our daily pieces.
COMMENTS
Comments are moderated and generally will be posted if they are on-topic and not abusive.
For more information, please see our Comments FAQ