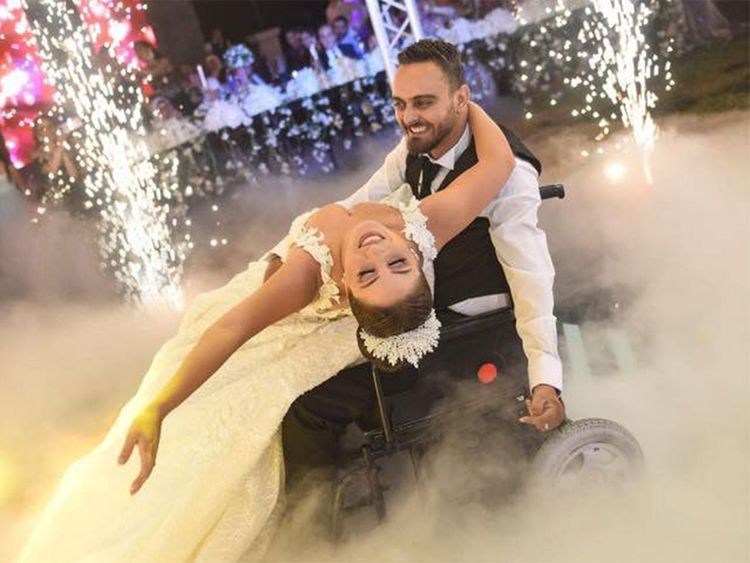 ---
A video of a Lebanese couple has gone viral on social media after the bride was seen dancing with her wheelchair-bound groom.

Alya Al Chamaa's video was captioned, "I'm not sharing this to become famous but because it is every bride's dream to dance on her own wedding day. I am sharing this dance to prove and show others that despite Jamal's disability, he did not deprive me of this joy."


كتير تأثرت بهالفيديو وبهالعرسان يللي واضح قدي بيحبو بعض. قالولي إنو بمنطقة برجا بالشوف. الله يهنيهن بحبن اللي تخطى كل شي ليكون درس بالحب pic.twitter.com/SlM3syEtI8

— Elissa (@elissakh) September 9, 2019


Elissa, a Lebanese music diva, also shared the account on her Twitter.

"Clearly shows how much love unites them. God bless them and their love with which they overcame all difficulties,= and that is a true lesson in love," she said.

She insisted that her husband was the hero in the story, for not depriving her from the simple pleasures of life, regardless of any shortcomings.

Alya opened up about her story to Gulf News after social media users began to acknowledge her post. Their video showed Jamal just holding her, as she swirled around him with utter joy. It did several rounds on social media as their bond caught the eyes of many, along with several congratulatory remarks.




The wedding took place last Saturday after a long time spent trying to convince Alya's parents. She revealed how she met Jamal on a holiday in 2009.


"We are both from Barja [a town village in Lebanon's Chouf District]. We met during a trip on the Eid holidays. We chatted and became friends. We fell in love and that was how it started. The biggest obstacle we faced was my parents, who had rejected the match… and they kept on rejecting for years until they finally gave their approval".
The couple held their engagement ceremony in May 2015 and talked about their love story and their honeymoon.
A user also posted a fan art on Alya's timeline, addressing her as an 'angel' with the caption, "I don't know but your story has affected me and all the people and I love to express it for a drawing. God bless you."
[fbpost link="https://www.facebook.com/photo.php?fbid=944120922599458&set=a.196652404012984&type=3&theater
"]
Alya recently wrote, "I thank everybody who shared with me this moment that I had been waiting for 10 years with my life partner Jamal. I love all those who supported me, especially my parents, who had refused in the beginning until they got introduced to Jamal and realised that he's an awesome guy and will make my life happy."
Have something to add to the story? Mention in the comments below.