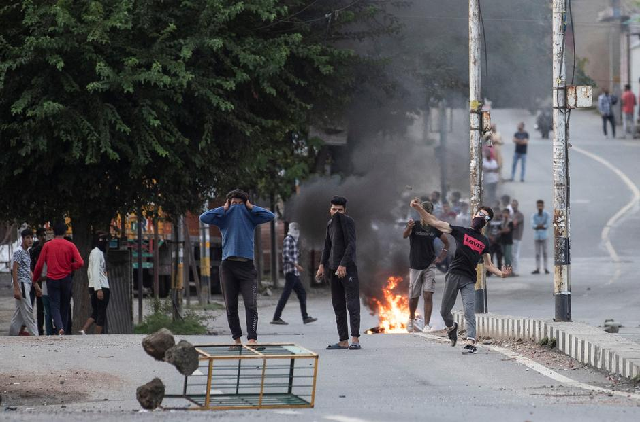 ---
ISLAMABAD: The resistance put up by the resident Kashmiri population over the revocation of Articles 370 and 35-A of the Indian Constitution has taken New Delhi by surprise. And in this state of flux, Islamabad must remain vigilant against Indian machinations.

This was suggested by Kashmir and strategic experts in a consultative meeting on the recent developments in the disputed Himalayan territory. The session had been held at the Institute of Policy Studies (IPS).

The session was presided over by former Azad Jammu and Kashmir (AJK) president Major General (retd) Sardar Anwar Khan while the participants included IPS Executive President Khalid Rahman, Lt General (retd) Faiz Jilani, retired ambassador Ishtiaq Andarabi, retired ambassador Abrar Hussain, former AJK minister Farzana Yaqoob, Kashmir Media Service Head Sheikh Tajammul Islam, AJK health worker Dr Khursheed Munshi, Islamabad-based Hurriyat leader Ghulam Muhammad Safi; IPS Fellow Dr Shahzad Iqbal Sham, Defense Analyst Syed Muhammad Ali and activist Dr Aisha Aijaz.

Kashmir an unfinished agenda of Pakistan's realisation: COAS

The analysts highlighted that the Bharatiya Janata Party (BJP) and its paramilitary wing the Rashtriya Swayamsevak Sangh (RSS) had clearly expressed its machinations on Kashmir, including abrogating Articles 370 and 35(A) of the Indian constitution in their electoral manifesto.

Thus, they said that India's actions of August 5 should not be surprising. Now, the analysts said, it should be expected that the BJP government will embark on constitutional and legal terrorism against Kashmir's resident Muslim population before replicating the formula in other states like Assam.

Moreover, they said that given the muted reaction of the world on India's annexation of Kashmir, it is evident that New Delhi took the move after taking global powers into confidence.

The only surprising element, analysts and experts said, was that India expected Kashmir to retreat into a reclusive shell owing to the shock. For everything else, the injection of additional troops into the valley would suffice.

However, the Kashmiri population reacted in an unprecedented manner while the reaction from the international media and rights bodies too was far more than what India had anticipated.

To deflect global attention from the issue, they said that India is likely to launch further false flag missions.

Published in The Express Tribune, September 7th, 2019.