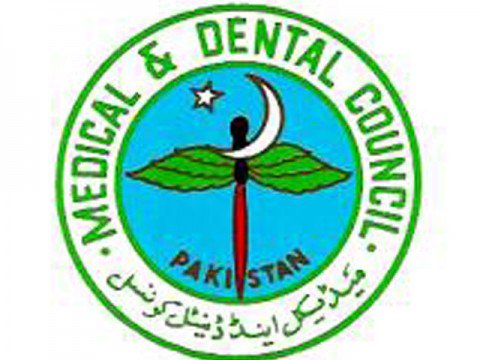 ---
KARACHI: With the tenure of the Pakistan Medical and Dental Council (PMDC) set to end today (Saturday), the federal government has once again decided to rely on an amended presidential ordinance to reinstate the body, The Express Tribune has learnt.

The fate of the statutory regulatory authority, which maintains the official register of medical and dental practitioners in the country, has been in limbo ever since the government failed to convince the Senate to approve the Pakistan Medical and Dental Council Ordinance 2019.

In order to keep PMDC functional, the federal government promulgated the aforementioned ordinance on January 7. Under constitutional procedure it had to get the decree approved by parliament within 120 days.

Although the government used the president's discretionary powers to extend the approval period by another 120 days, it was ultimately unable to get the ordinance passed by the Senate. The joint opposition, using its numerical strength in the upper house, pushed through a disapproval resolution against the presidential decree.

To complicate matters for both the government and aspiring medical practitioners, Punjab and Khyber-Pakthunkhwa have already started conducting admission tests for MBBS and BDS programmes. Sindh and Balochistan will follow suit on September 15. This means that PMDC will not be functional at the exact time it is most needed.

Faced with stiff resistance to the aforementioned ordinance from the opposition, the federal government has decided to bring in an amended presidential decree to keep the PMDC functional, sources told The Express Tribune. They said no representative from private medical and dental institutes will be appointed to the council this time around. However, they warned that some 'hand-picked' faces are likely to be appointed once again.

According to the sources, the government is also mulling an overhaul of PMDC's monitoring system for medical and dental institutes. To begin with, they said the government has decided to cancel the accreditation of sub-standard institutes while raising the bar for admissions. They pointed to the latter as the reason for the decision to make 70 per cent score in HSc the cutoff for appearing in entry exams for medical programmes.

Sources said the government has also decided to extend monitoring to private and public medical colleges. According to the, the government believes private institutes are 'selling' medical qualifications by charging hefty fees. "The government wants private colleges to charge less and produce more quality," an official privy to the development said.

While PMDC's current defunct status does create difficulties for those currently working in and looking to enter the medical field, the regulatory authority has not been without controversy in recent times. Officials associated with PMDC have noted that the body has drastically fallen short of most its targets. Meanwhile, the council's president and board members had stopped coming to work over a week before the end of their tenure. This, sources said, was after strong rifts had already developed among the PMDC board which resulted in the removal of four members.