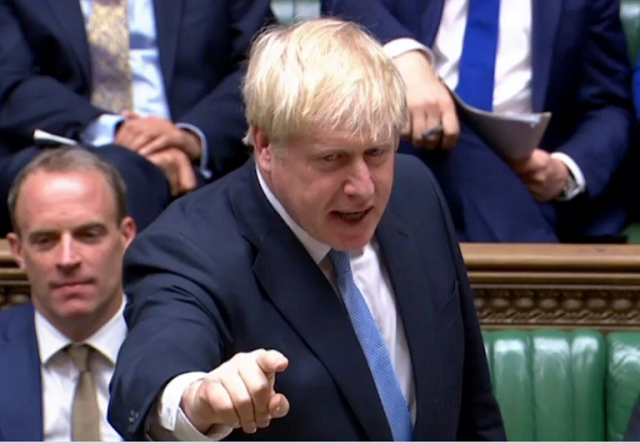 ---
A Sikh Member of Parliament in the United Kingdom has been lauded for speaking up against Prime Minister Boris Johnson's "racist and derogatory comments" against minority groups, particularly Muslim women, reported The Independent.

During the prime minister's questions, Labour MP Tanmanjeet Singh Dhesi demanded an apology for comments made by the prime minister – comparing burqa-wearing Muslim women to bank robbers and letterboxes – that resulted in a spike in hate crimes.




Proud and emotional to witness @TanDhesi hold Boris Johnson to account for his Islamophobic attack on Muslim women. The House was full of applause. We will not accept Johnson's hard-right politics of hate.pic.twitter.com/Lh6rzviHJ4

— David Lammy (@DavidLammy) September 4, 2019


PM Johnson refused to apologise, claiming that his comments were part of a "strong liberal defense of everybody's right to wear whatever they want".

MP Singh – who wears a turban – said he is used to insults like "towelhead", language similar to that which was used by the prime minister.

"If I decide to wear a turban or you decide to wear a cross or he decides to wear a kippah or skullcap or she decides to wear a hijab or burqa, does that mean it is open season for right honourable members of this house to make derogatory and divisive remarks about our appearance?"

Boris Johnson calls vote on holding early elections after Brexit defeat

"For those of us who from a young age have had to endure and put up with being called names such as towelhead or Taliban or coming from Bongo Bongo Land, we can appreciate the hurt and pain felt by already vulnerable Muslim women when they are described as looking like bank robbers and letterboxes.

"Rather than hide behind sham and whitewash investigations, when will the prime minister finally apologise for his derogatory and racist remarks which have led to a spike in hate crimes?" he said.

He then asked the prime minister when he would investigate Tory Islamophobia – a promise he had made on live television, along with Chancellor Sajid Javid.

PM Johnson defended his actions, saying he spoke as "somebody who is not only proud to have Muslim ancestors but to be related to Sikhs".

"Under this government, we have the most diverse cabinet in the history of this country," he added.

He dodged the complaint by MP Singh, saying "what we have yet to hear from anywhere in the Labour Party is any hint of apology for the virus of anti-Semitism that is now rampant in their ranks. I would like to hear that."

Many diplomats reacted to Johnson's response, calling it "pathetic" and "appalling".

According to a report, there has been a rise in Islamophobic incidents by 375 per cent since Johnson's comments about Muslim women - 42 per cent of those incidents were directly referencing Johnson's racist comments.