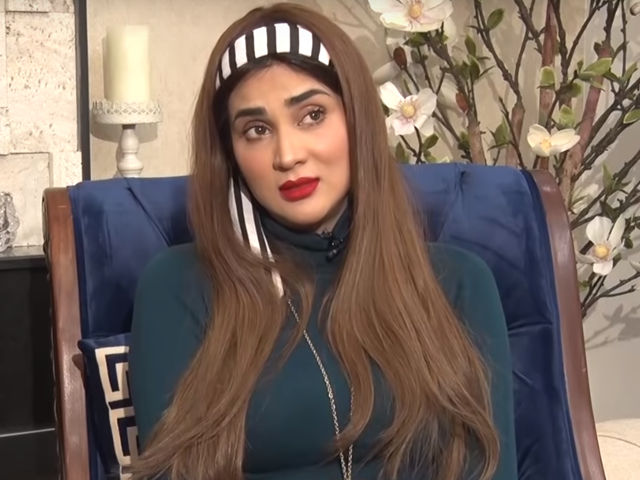 ---
TV actor Fiza Ali is a recognisable face. She has done a number of successful TV projects and is a name that you will easily associate with the glitz and glamour of the showbiz industry. However, rarely do we get to hear the harsh realities that these stars have fought to become who they are today. Ali is no different.

In a recent appearance on a local TV show, the Mehendi star shared a personal accounts of the domestic abuse she witnessed as a child. Ali revealed how she has always tried not to talk about her father and whenever she did, she lied about him being dead.

"There are only a few times I have talked about my father," the actor said. "On a few occasions, I said that my father has passed away; on others, I lied that he died even before I was born."

However, the truth is that Ali  has not been in touch with her father for a very long time and doesn't even know if he is alive anymore. "I only know that my father used to beat my mother when she was pregnant with me. He used to beat her black and blue," she continued. "Once, I remember, he hit her so hard, her teeth broke. There was blood all over the staircase. That's when the neighbours intervened and took her to the hospital."


As her father refused to fulfill any familial responsibilities, things only got worse for the Ghaao actor and her mother. "My father's side of the family was quite stable and well-to-do but my father just wouldn't find any work," she went on. Her mother, on the other hand, came from a very wealthy family so her father wasn't forced to work and that spoilt him to the limit of abusing everyone else. "He would hit my mother if she refused to give him money and that is possibly the only time he would speak to her."

As a result of a terrible childhood and her father's increasingly aggressive behaviour, a fall-out was expected sooner or later. "A father is someone who provides for his family, who is responsible and cares about his children's future and their education. Our father never did anything beyond giving us birth."

But no matter how much she hated her father, it did not compensate for the vacuum he left in her life. The void within Ali, when she was a kid, often took the shape of jealousy from other children who came from stable and loving families.

"I grew jealous of other kids at school. Their fathers used to pick them up and they would boast about getting presents from them. As a result,  I never became friends with children who used to have healthy relationships with their dads," revealed the Mor Mahal actor.

As a child who saw her mother's unfulfilled life turn into a tragedy, Ali would always be curious about who her friends were closer to; their father or their mother. "I would never get along with kids who would say their father," she recalled, with a smile on her face.

As Ali grew older, she learnt to avoid certain kinds of questions and in a way, also became at peace with her past. She has forgiven her father for what he did to her just because he was her mother's husband, not because he was her father. "What he did to us was very, very unfair," she concluded.

In her mother, Ali found not only her own catharsis but an iron lady with a cape. She fulfilled all the duties that a child would expect from her parents, and Ali is very proud of her.

Have something to add to the story? Share it in the comments below.