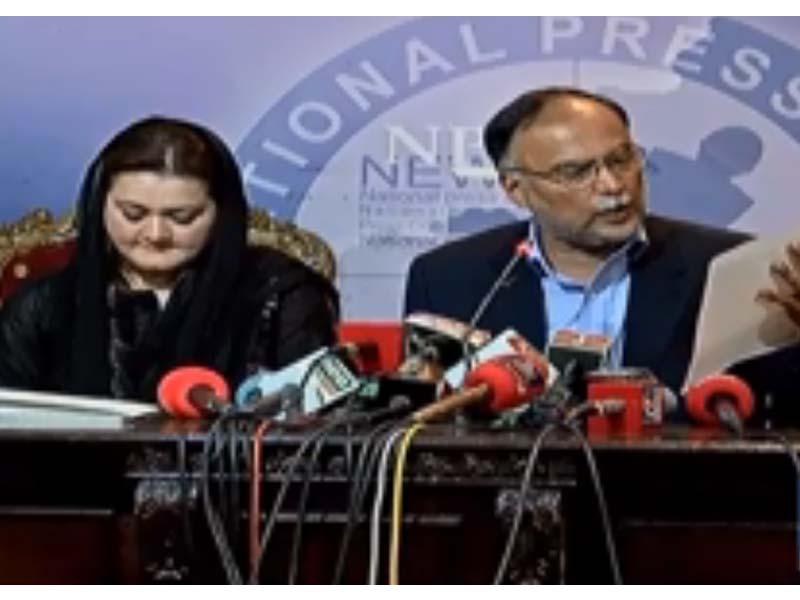 ---
LAHORE: The Pakistan Muslim League-Nawaz (PML-N) on Wednesday criticised the repatriation of the judge over Whatsapp in the midst of Rana Sanaullah's case hearing, calling it as the "most vicious attack" on judiciary.

Addressing a news conference at the Islamabad Press Club, PML-N central leader Ahsan Iqbal and Secretary Information Marriyum Aurangzeb said it was the first time in country's history that a judge has been taken off a case and transferred during a hearing of the case. The judge was not even honoured with a formal notification, they said.


اس سے بڑا مذاق کیا ہوگا کہ پاکستان کے نظام عدل پہ واٹس ایپ کے ذریعے فیصلے مسلط کیے جائیں.یہ پاکستان کے نظام عدل,عدلیہ اور پاکستان کی عدلیہ پر ایک گھناؤنا وار ہے@betterpakistan pic.twitter.com/3uaCJLR3Xd

— PML(N) (@pmln_org) August 28, 2019


Not just the judge hearing Sanaullah's case, Iqbal said "Law ministry has taken every judge hearing cases of PML-N leaders off their cases and transferred them to somewhere else". He said judges hearing the cases of Maryam Nawaz, Hamza Shehbaz, Nawaz Sharif and Shahid Khaqan Abbasi were all changed.

"The Pakistan Tehreek-e-Insaf (PTI) government is working as an instrument of foreign forces. Imran Khan accuses others of being Nazi whereas he is the biggest embodiment of Nazism with this vicious and blatant disregard for rules, laws and the constitution," said Ahsan.

Party information secretary said the Election Commission of Pakistan has ruled that President Arif Alvi violated the Constitution by replacing members of the commission to influence the hearing of PTI's foreign funding case of 18 fake accounts.

"Chief election commissioner has given a verdict, which necessitates an impeachment of the president and the PM .The prime accused in the foreign funding case is President Arif Alvi and PM Imran.

Violating the constitution to get a favorable decision in the case is a direct conflict of interest and a straight forward impeachable offence," she said.

She slammed the blatant mockery of the judicial system where JIT's are built on WhatsApp. Former PM is arrested over Whatsapp notices and now judges are pulled off the cases mid-hearing through Whatsaap, she added.
COMMENTS
Comments are moderated and generally will be posted if they are on-topic and not abusive.
For more information, please see our Comments FAQ