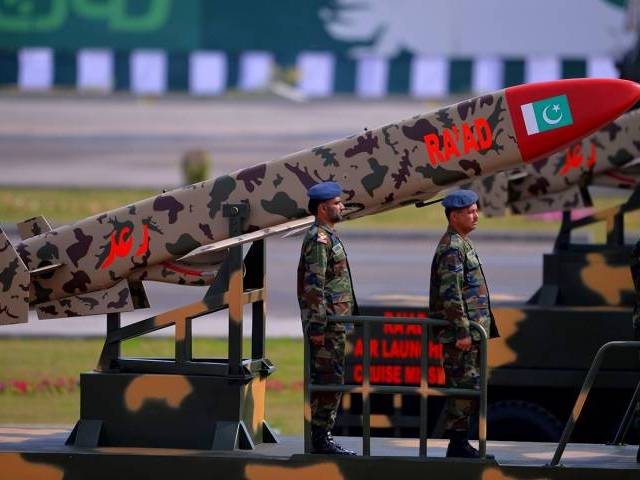 ---
Kashmir could provide the spark that lights South Asia's nuclear fuse, warns a report by United States-based think tank Stratfor.

The report highlights the "specter of nuclear war" looming over tensions between nuclear-armed neighbours Pakistan and India, which have spiked since New Delhi's illegal revocation of Indian Occupied Kashmir's (IOK) special status.

It states that the possibility of the conflict going nuclear increased after India's Defence Minister Rajnath Singh made a veiled threat of nuclear war in the region.

Although Singh did not name any country, it is understood the threat was directed at Pakistan.

Pokhran is the area which witnessed Atal Ji's firm resolve to make India a nuclear power and yet remain firmly committed to the doctrine of 'No First Use'. India has strictly adhered to this doctrine. What happens in future depends on the circumstances.

— Rajnath Singh (@rajnathsingh) August 16, 2019

The report states that if Pakistan and India use nuclear weapons, it would be the first use in war since the US destruction of Hiroshima and Nagasaki in 1945.

It also disagreed with the view that Kashmir is "India's internal affair" or even a "bilateral issue between India and Pakistan".

The report mentions Prime Minister Imran Khan's efforts to protect the Muslim-majority IOK and seek support from the international community, including fellow Muslim leaders.

UN chief promises to take up Kashmir with Modi

The report also discusses Pakistan's victory in February 2019 when its air force downed an Indian fighter jet and captured its pilot, Abhinandan Varthaman.

It points out that Indian Prime Minister Narendra Modi "did not acknowledge" Pakistan's attempt to extend an olive branch when Islamabad returned the captured Indian pilot on March 1.

The report states that India's first Prime Minister Jawaharlal Nehru in 1947 promised Kashmiris a plebiscite - the direct vote of all the members of an electorate on an important public question such as a change in the constitution – which never took place.

According to the US think tank, the only way to save the world from nuclear war is by asking the Kashmiris what they want.

"The question is, what do the people of Kashmir ... want? No one is asking them, but that may be the only way to save them, and the world, from nuclear war," the report reads.
COMMENTS (1)
Comments are moderated and generally will be posted if they are on-topic and not abusive.
For more information, please see our Comments FAQ