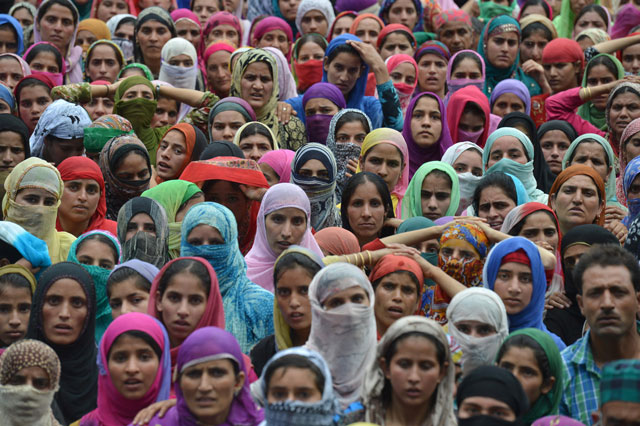 ---
Can you imagine waking up every morning, with teary eyes and a fast-beating heart, hoping that the man who promised to stay by you forever would be lying alongside because he promised never to break from you? But all your eyes witness is loneliness. Silence is the only sound in the room. With tears, you rush towards the entrance door still hoping that he would be standing there with open arms, eager to embrace you. Alas, he is not there! All you see is an open door and your child waiting there impatiently for the man who promised him new shoes, toys and chocolates on Eid. But that man has not returned. The dark clouds hovering above and the fallen leaves all tell you that perhaps, he never will.

It is hard to imagine such a heartbreaking moment. But Saira Ahmed (name changed) has to go through this ordeal every day. Her husband was picked up by Indian security forces 12 years ago and has not returned since. If it were not for the safety and future of her children, she claims she would have "committed suicide long ago".

This is the fate of Kashmir's half-widows i.e. women whose husbands have been "disappeared" by Indian security forces. Their exact number is not known. Estimates suggest there are between 1,500 and 2,500 such women in India-occupied Kashmir (IOK). Unaware of their husbands' whereabouts, these women not only endure the grief that comes from being separated from their spouses but are also constantly struggling to survive. Their husbands — either still alive in the custody of Indian forces or dead at their hands — have not been declared deceased, hence the term half-widows.

Left on their own, these Kashmiri women must make ends meet, and provide for their children. Since their husbands have not been proclaimed dead officially, they face challenges in inheritance. They must also suffer from trauma and constant fear of being mistreated by the occupying forces that hunt, torture, and rape women at will.

Many of them have not remarried owing to a difference of opinion among Islamic scholars over the permissibility of contracting a second marriage in case the husband goes missing. The social stigma attached to these women adds to their miseries. But nothing is more heart-wrenching than the silence on their lips when every night before going to bed their children ask them with imploring eyes, "Ammi, Baba kab ayein ge?" (Mom, when is dad coming back?)

The only thing that keeps them alive and their courage intact is the hope that one day they will be reunited with their husbands, and their children will hold their father's hands and dance in the streets of another Azad Jammu and Kashmir. Only this hope alleviates their miseries and reduces their pain.

Wars and conflicts glorify manhood, for it is men who fight and lay down their lives to defend their motherland. Their sufferings and achievements are readily visible in the battlefield for which they are awarded accolades and remembered as heroes. But not many are aware of the anguish inflicted upon those who fight behind the battlefield. The horrors of women who suffer in the absence of their husbands are often left unnoticed. The untold and unheard story of Kashmir's half-widows — the brave women carrying on despite all odds, exposes us to the indispensable role of women and their thankless contribution towards realising a better future for the generations to come. These women are among the torchbearers of Kashmir's freedom struggle. Their resilience is unmatched and struggle unrivalled.

Above all, the plight of these women shows how conflicts can tear apart families and scar memories forever. It is an indignity that should prick everyone's conscience and should compel them to protest against the tyranny of Indian forces in the Kashmir Valley.

Published in The Express Tribune, August 25th, 2019.

Like Opinion & Editorial on Facebook, follow @ETOpEd on Twitter to receive all updates on all our daily pieces.