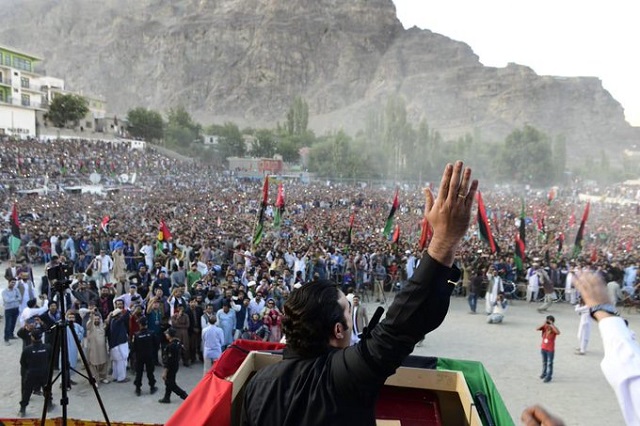 ---
After India's strong-arm tactics in Occupied Kashmir, Pakistan Peoples Party (PPP) Chairman Bilawal Bhutto-Zardari has said that the PTI government's foreign policy has led to the country's "isolation on the international stage".

"It took them [the government] a year to destroy our foreign policy," said Bilawal while addressing a public gathering in Skardu, Gilgit-Baltistan on Thursday.

Lambasted the Prime Minister Imran Khan-led government, the PPP leader said that the premier has backtracked on all the promises he made before coming into power.

"It is very easy to criticise others, but difficult to come through on the promises made to the people of Pakistan," the scion of the Bhutto political dynasty said.

Bilawal warns govt against 'over-promising' on Afghanistan

"He used to say that he'd rather take his own life than beg other countries for money," he hit out at PM Imran.

According to Bilawal, ever since the prime minister has been at the helm, "Pakistan has taken record-loan in a single year".

"The Pakistan Tehreek-e-Insaf [PTI] vowed to give jobs to 10 million people," he said, adding that, the public has fallen prey to the their "economic terrorism".

The PPP chairman said that PM Imran has forced people into destitution instead of giving them a roof over their head.

"Even the dollar exchange rate has sky-rocketed," he cried out to the crowd.

Despite the cost of the Peshawar Metro Project having ballooned from Rs30 billion to Rs100 billion no one has held the PTI government accountable, he added.

In light of the recent accountability proceedings against his father Asif Ali Zardari, Bilawal claimed that PM Imran wants to lock up the entire opposition leadership. "This is clearly nothing more than political victimisation under the garb of accountability"

Taking aim at the country's apex anti-graft body, the National Accountability Bureau (NAB), he deemed its tactics to nothing more but thuggery.

Bilawal also warned the government from oppressing Pakistanis as they would be held accountable.

He has been critical of Pakistan's foreign policy ever since India's move in Occupied Kashmir, as on the floor of parliament, Bilawal had questioned why the government was caught off-guard by New Delhi's decision to strip Indian Occupied Kashmir (IOK) of its special status and its attempts to silence the voice of its people.


لائیو: پاکستان پیپلزپارٹی کا اسکردو میں میونسپل گراؤنڈ کے مقام پر تاریخی جلسہ https://t.co/EZryS5rz5Q

— PPP (@MediaCellPPP) August 22, 2019