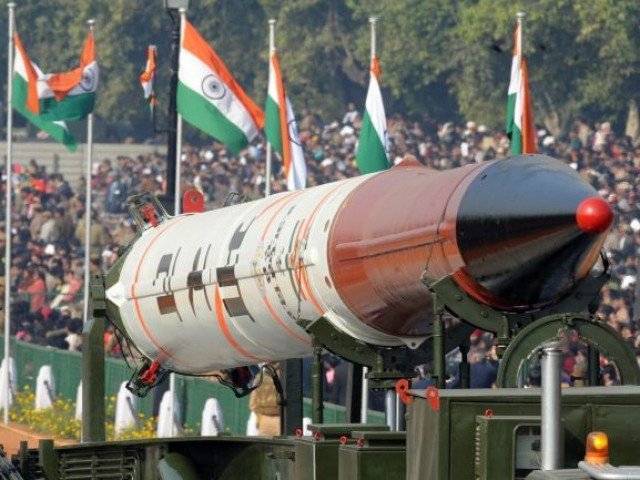 ---
KARACHI: Amid mounting pressure on India over its illegal move in Occupied Kashmir, Prime Minister Narendra Modi's defence minister has made a veiled threat of a nuclear war in the region.

Though Rajnath Singh didn't name any country, it is understood the threat was directed at Pakistan. It shows Modi's growing frustration at his ill-conceived move to strip Occupied Kashmir of its autonomy on August 5.

"Pokhran is the area which witnessed Atal Ji's firm resolve to make India a nuclear power and yet remain firmly committed to the doctrine of 'No First Use'. India has strictly adhered to this doctrine. What happens in future depends on the circumstances," Singh wrote on his verified Twitter handle.


Pokhran is the area which witnessed Atal Ji's firm resolve to make India a nuclear power and yet remain firmly committed to the doctrine of 'No First Use'. India has strictly adhered to this doctrine. What happens in future depends on the circumstances.

— Rajnath Singh (@rajnathsingh) August 16, 2019


The Pokhran-II tests were a series of five nuclear tests conducted by India at the Indian army's Pokhran Test Range in May 1998 when Atal Bihari Vajpayee was the prime minister.

India's belligerent posturing following the nuclear detonations forced Pakistan to conduct five simultaneous underground nuclear tests just two weeks later on May 28, 1998. The tests were conducted at Ras Koh Hills in the Chagai district of Balochistan.

"India attaining the status of a responsible nuclear nation became a matter of national pride for every citizen of this country. The nation will remain indebted to the greatness of Atal Ji," the Indian defence minister wrote in another tweet after visiting Pokhran on the first death anniversary of Vajpayee.

Singh's oblique threat came at a time when the UN Security Council is taking up the precarious situation in Indian Occupied Kashmir which has been turned into what award-winning Indian author Arundhati Roy says a 'giant prison camp' in an attempt to contain the simmering rage in the disputed territory.

Writing in The New York Times on India's Independence Day on Thursday, Roy said: "…it looks very much as though our government has gone rogue."

The Modi government is visibly upset at the UN Security Council decision to take up the Kashmir dispute at Pakistan's request endorsed by China after almost 50 years. Islamabad calls the UNSC decision a huge "diplomatic achievement".

Prime Minister Imran Khan has warned the international community of "severe repercussions and reactions" if they "silently witness another Srebrenica-type massacre & ethnic cleansing of Muslims in IOK".

"If war breaks out in the region, the world powers and international bodies will be responsible as they have failed to implement the UN resolutions on Kashmir," the premier wrote on Twitter on Thursday.

Pakistan has told the international community umpteen times that the festering Kashmir dispute between Islamabad and New Delhi remains a nuclear flashpoint in the South Asian region.

Premier Imran has repeatedly said that Pakistan doesn't want war in the region as military confrontation between the two nuclear-tipped hostile neighbours would spiral out of control and the result would be apocalyptic not just for the region but the whole world.

Speaking to The Express Tribune, Maj Gen (retd) Inamul Haque expressed some alarm at the Indian defence minister's statement. "While I think it is a little early to read too much into Singh's statement – whether it signals an actual policy shift from 'No First-use' will only emerge later – the fact that it is coming from a rather responsible voice within India's present government is definitely significant," he said.

Former foreign secretary Shamshad Ahmad Khan, however, pointed out contradictions within India's 'No First-use policy'. "Neither Pakistan, nor the international community can be taken in by India's so-called 'No First-use' policy," he insisted. "No First-use has never been accepted as the basis for determining the deterrent postures of any of the nuclear-weapon states. It is not verifiable and was not subscribed by NATO in the past and even now."

Shamshad argued that India itself places no credibility in the 'No First-use' doctrine. "If it did, it should have accepted China's assurance of 'No First-use' and of 'Non-use' of nuclear weapons against non-nuclear states. This would have obviated the need for India's nuclear weapon acquisition and nuclearisation of South Asia," he said.

The ex-foreign secretary noted that it was India that forced Pakistan's hand when it came to nuclearisation. "Pakistan had no choice in 1998. That India kicked off the nuclear race in South Asia is something the UNSC had acknowledged in its resolution at the time."

"[So] India's 'No First-use declaration is in fact designed to secure for itself 'recognition' as a nuclear weapon state, which would flow from 'acceptance' of its No First-use and Non-use assurances. Pakistan's proposal for a 'No War Pact' is more comprehensive than just 'No First Use of Nuclear Weapons'," he pointed out.

"No First-use is therefore essentially a political talking point used by India just as Article 370 and 35 A were for it since 1949 and 1954 to hide its naked aggression through the illegality of Kashmir's annexation in October 1947," he stressed.


According to Shamshad, Singh's statement was another attempt at deceiving the world and drawing attention away from illegality of the Modi government's recent moves in Occupied Kashmir. He also saw it as an 'act of desperation' given the blowback it has faced from prestigious news outlets around the world following the decision to strip away the dispute region's special status.

For Gen Inam, the statement was simply another manifestation of the 'muscular approach' BJP's Hindutva manifesto promises. "Deep down Hindutva, and BJP policy as a consequence, is fed by an inferiority complex among hardline Hindus," he said.

"It revolves around this desire among them to right all the supposed wrongs they believe were done to Hindus by Muslims over the course of the Subcontinent's history. And a reaction that is borne out of such an inferiority complex often manifests as an outward expression of superiority."

According to Gen Inam, the position that India has enjoyed of late on the global stage in particular has increased the Modi government's confidence. "That, coupled with BJP's landslide victory in Indian elections, has eroded much of the opposition that could keep that confidence in check. Modi was meek as long as he had to rule as part of a coalition government. Now, not so much," he pointed out.

"As a result, there is no left, centre or right left in Indian politics. The fringe right has taken the centre-stage," Gen Inam said. "And what does this fringe right believe? That India is only for Hindus and minorities can take it or leave it. On a regional stage, this manifests in India's muscular foreign policy towards its neighbours. They can fall in line or take the road."

Pakistani journalist's Twitter briefly suspended over reply to Indian minister's nuclear threat

It is not just the BJP and Modi, however, who are driving India's increasing belligerence, according to Gen Inam. "India's military leadership has long wanted to call what it sees as Pakistan's 'nuclear bluff'. It mistakenly believes that a conventional war with Pakistan is possible under nuclear overhang," he said.

"What it does not seem to realise is how disastrous such a position can be," the retired general stressed. "Take what happened in February. There was not a single soul in Pakistan, from the leadership down to the common person, who was in a mood to not retaliate after India's botched airstrike near Balakot."




Shamshad pointed out that Pakistan, right now, is a victim to Modi and India's provocations. "Modi wants Pakistan to make a serious mistake," he noted.

According to him, Prime Minister Imran Khan's current policy is the path for the country. "He is correct to highlight to the world that an unstable leader is in power in India. He knows what is at stake. He knows that war will be immensely costly for the people of both Kashmir and India, not just Pakistan."

Shamshad also stressed that it is imperative now for the world powers to get involved and play a role in mediation between India and Pakistan like they did in the past. "Their role is increasingly becoming indispensible if these tensions are to be defused," he said. "They must also realise that they will be responsible if India crosses a red line with Pakistan."

Gen Inam, meanwhile, had a message for India's current leadership, both civil and military. "They need to realise that decision-making is a complex process and that escalation shrinks decision space," he warned. "And when that happens, leaders are forced to make popular decisions over wiser ones and that becomes very dangerous."