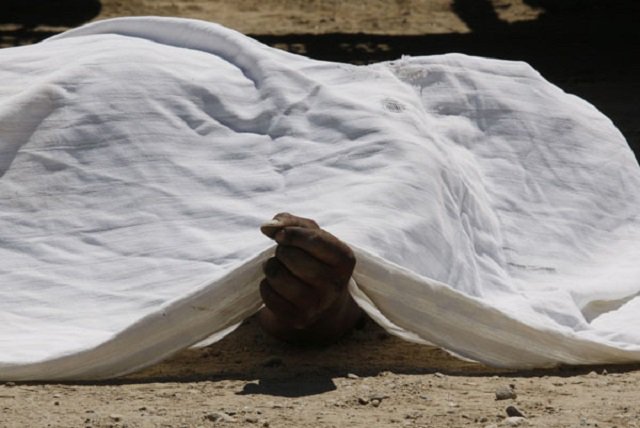 ---
ISLAMABAD: Two people, including a minor, were killed in separate accidents in the federal capital over the Eidul Azha holidays.

The Sihala police said that a woman, identified as Sheeba Farrukh was allegedly recklessly driving her vehicle near the Ghora Shakan area when she reportedly crushed a motorbike rider, Naveed Shah, killing him on the spot.

The suspect, Farrukh, though, managed to flee.

The police, however, managed to seize her vehicle and registered a case against her. Similarly, the Lohi Bher police said that Samiullah allegedly ran over seven-year-old Armaan with his in Korang Town.

As a result, both of Armaan's legs were fractured.

The police later arrested the suspect and a case was registered against him on an application filed by the victim's father. Later, the police allowed him to leave after the case was registered.

Man tortured to death

A man lost his life due to alleged police torture on the first day of Eid while the police lodged a case for the incident sans any mention of kidnapping, illegal confinement or torture to protect the police officers allegedly involved.

In an attempt to protect themselves, the police officials allegedly tried to bury the victim's corpse by claiming that he did not have any family. However, their attempt to hide the crime was foiled by the victim's family.

Ghulam Abbas, the victim's brother, told the police that his brother Muhammad Ilyas was a daily-wage earner. On July 27, Abbas claimed that a sub-inspector, along with 11 other police officers had allegedly kidnapped Ilyas and shifted him to an unidentified location where they allegedly assaulted him for two weeks.

Abbas said that he kept pleading with the SHO of the police station and even visited the offices of senior police officials but to no avail. Unable to endure the torture, the victim allegedly succumbed to his injuries on the first day of Eid. His body was then allegedly dumped in a nearby forest which the officers then later claimed to have recovered as the body of an heirless man.

The body was shifted to the District Headquarters Hospital (DHQ) in Rawalpindi. However, the alleged attempts to cover up the crime were foiled when the victim's family recognized the body and stopped officials from burying the body.

The victim's family staged a protest against the Gujjar Khan police after which Rawalpindi CPO Faisal Rana took notice of the incident and ordered to register a case against the police officials suspected to be involved.

While registering the case, however, sections pertaining to abduction, holding a man hostage for two weeks, and assault were omitted from the FIR.

Talking to media after registration of the FIR, Abbas demanded that the government intervene and serve justice to his deceased brother. He added that his brother was innocent and had allegedly been killed police officers in a car deal. 

Published in The Express Tribune, August 14th, 2019.