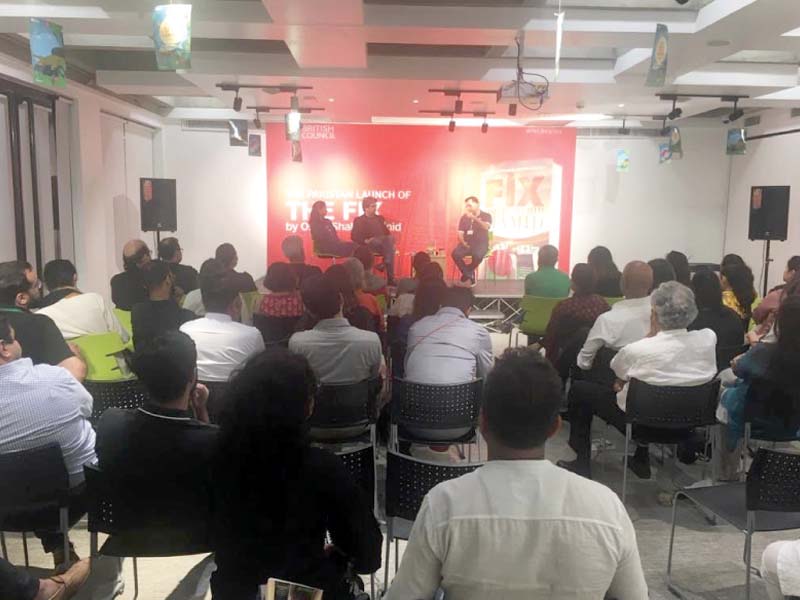 ---
KARACHI: When asked how much being a police officer has influenced his writing, Omar Shahid Hamid gave a wry smile. His insights into the seedy criminal underbelly of Pakistan have undoubtedly lent great veracity to his three previous novels, but his latest book, 'The Fix', sees Hamid turn his gaze towards a slightly more malicious beast - cricket.

But what sets the subject matter of 'The Fix' apart is that Hamid chooses to . The novel follows Sanam Khan, captain of the team, and her band of "talented misfits" as they try to attain cricketing glory without succumbing to the spectres of match/spot fixing that have long haunted the game.

At the book launch on Saturday, held at the British Council library in Karachi, Hamid confessed that prior to writing this novel, his knowledge of women's cricket was fairly limited. When asked by the moderator, journalist Owais Tohid, how Hamid increased his understanding in this regard, he replied, "As I started writing the book, I began to pay more and more attention towards women's cricket."

And Hamid certainly hopes that his novel can make others follow the women's game just as passionately as they follow the men's; he recognised, however, that there was still a long way to go for that to become a reality.

But neglecting women's sports seems to be a global epidemic. Hamid stated that he had initially wanted 'The Fix' to be available for sale during during the recently concluded cricket World Cup, hoping that the tournament would provide his book with greater traction, but publishing houses in England had refused since they believed the market for women's sporting fiction was virtually non-existent.

However, the most revealing insight regarding the state of women's cricket was provided by Urooj Mumtaz, former captain of the Pakistan women's cricket team, who joined Hamid and Tohid during Saturday's discussion. Mumtaz stated that sportswomen in Pakistan have to fight an additional set of battles that most international players do not have to struggle with. She professed that while the slow progress of female sport in the country is the result of a confluence of factors, the greatest roadblock for sportswomen in Pakistan is that "we simply don't value our women". In fact, writing 'The Fix' made Hamid realise that female cricketers in Pakistan are "struggling to gain even basic recognition". Nonetheless, Mumtaz asserted that "the Pakistan women's cricket team is on the rise", pointing towards the impressive recent performance of the team against the West Indies and South Africa.

Hamid said that he was keen to investigate why "god's of the game, players who had the world at their feet" felt compelled to wade into the stormy seas of match/spot fixing. When asked about how much research he had to do in order to pen down the novel, Hamid quipped, "Yes, I was able to speak to some bookies, but please don't ask me their names!" One of the pioneers of women's cricket in Pakistan, Shazia Khan, also served as a great source of information for Hamid.

One of the most intriguing aspects of the novel is the fact that Hamid has included certain characters which appear to mirror some real life Pakistani cricketing superstars. Of course, he doesn't want to spoil the fun for you by explicitly saying who represents who.

While Hamid joked that he is "gloriously unimaginative" when it comes to coming up with a title for his book, the same cannot be said about his ability to concoct stories. His novel attempts to cover the full length of the cricketing spectrum, from match fixing, to women's cricket, and everything in between. Mumtaz said she certainly hoped that 'The Fix' would get people interested in the Pakistan women's cricket team. "Afterall," she said, while speaking about her fellow female cricketers, "we are creating our own history".

Published in The Express Tribune, August 14th, 2019.