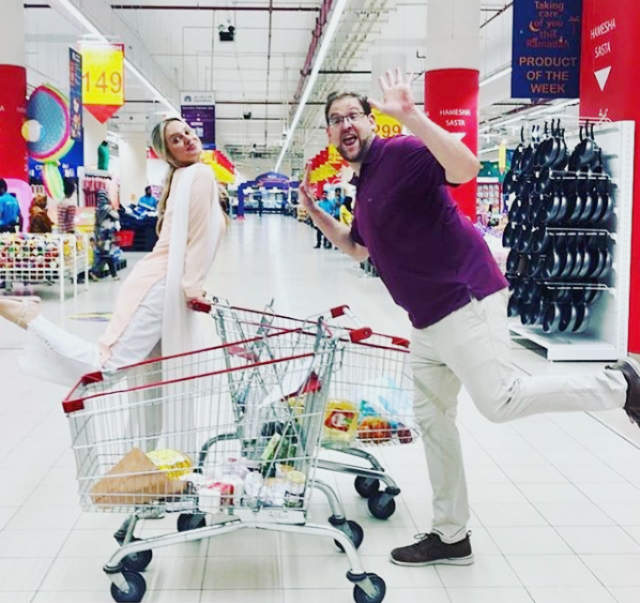 ---
We Pakistanis take our food very seriously! No matter what the mood or occasion is, it is one of the comforts we blindly seek. Thanks to Shan Foods, cooking has become easier. It is one brand that has been passing its legacy from generation to generation, making cooking easy, fun and not to forget absolutely delicious. Their myriad of spices and mixes are essential as meaty Eid is around the corner.

Recently, a video has been making rounds that features the very adorable George Fulton and the ever-gorgeous Shaneira Akram at a grocery store. They seemed to be super excited and were running around with their carts from aisle to aisle. Let's unravel the mystery to find out what's cooking.




One thing that surely caught our attention was how both constantly kept a tab on their watches. Any guesses? Yep, you're on the right track. The two were given a shopping challenge which they had to complete in a specific time frame. They were allotted a list of scrumptious dishes and were required to gather all the ingredients for those dishes. We sure did spot a plethora of Shan Food boxes and are quite intrigued to find out where this expedition is off to!



It was fun to see their rib ticking banter and how they tried to sabotage each other's ingredients in order to win the competition. It certainly is commendable to witness how Shan Foods has taken creativity to the next level by coming up with a spectacular out of the box idea and taking on board these two influencers who see Pakistan with a whole different lens. Whether its breaking stereotypes through their TVC's or coming up with the ultimate shopping challenge, Shan Foods is always a step ahead in winning our hearts.


Don't miss out watching the video that has taken social media by its storm. Last, but not the least, hurry and stock up on your favourite Shan masalas for the Eid barbecue before they run out!