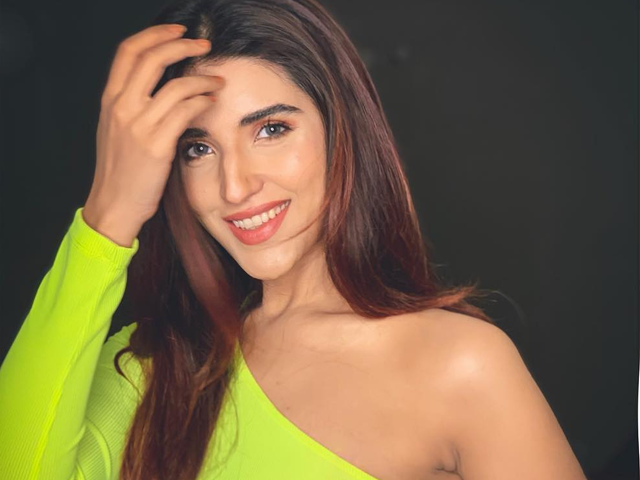 ---
Hareem Farooq's upcoming film Heer Maan Ja, at a first glance, looked eerily similar to her last venture, Parchi with the same co-star Ali Rehman Khan and the same crew.

However, the actor shared it's anything but.

While Parchi fared quite well at the box-office, producers pin high hopes on the Eidul Azha holiday.




In a recent interview with BBC Asian Network, Farooq said the audience should support Pakistani cinema even if the films aren't so up to the mark.

"I'd say that's true. You need to own everything right now," she shared. "Bollywood, Hollywood, Tamilwood, they're centuries old, while Pakistani cinema is probably just six years old. We talk about making something out of our country, and we want to take our cinema abroad."

Farooq added, "We want to tell people that what you get to see in the news is not Pakistan or the one you get to hear about from people who don't even know what Pakistan is, right? You need to tell people that this is Pakistan; it is beautiful, it has colours, it has talent, it has everything."


"So, even if there is a bad film, you need to understand and our audiences need to understand, that we don't have the technicians, the writers, or even the actors for films. Everyone is learning and the only reason why people are doing films is passion and it's just purely passion, trust me on this," the Diyar-e-Dil actor continued.

The actor while speaking to The Express Tribune earlier, commented on how local films are received abroad.

"Credit goes to a lot of film-makers here; because we make a conscious effort to release films internationally so that Pakistan's soft image can be promoted across the globe. Given many people think Pakistan is just about extremism or terrorism, when they see a film come out of the country, they think 'oh wow this happens as well'," Farooq had said at the time.




Talking about how films are an important mediums of communication, and the class difference that exists between the audience, the actor remarked, "I think the government is going to eventually realise the importance of cinema as an industry. Producers are the ones who are suffering the most. They are not making enough money and are making films out of pure passion. How do we educate our audience? Cake is amazing for us but for a certain class. Producers are making films either for the lower classes or just for the upper class. There's a huge gap in between."

Farooq also asserted on how important it is to introduce a new wave of actors and actresses in the industry.

"It is absolutely important to introduce new faces in Pakistani cinema. We need to have new faces, we need to make new stars, bigger stars. Cinema is a very strong platform which can provoke thought process and change mindsets," she said.




"Therefore, we need the younger lot out there who have different mindsets and who are passionate for cinema."

"A lot of people don't know this, but our youth is very passionate about cinema. We recently started various courses in different universities. Many came forward to work with us behind or in front of the camera," added the Dobara Phir Se star.

"Many contributed to the revival of the film industry," said the actor. "The industry is definitely flourishing. We have more screens than before. It's an amazing opportunity for actors, it's an amazing opportunity for business."

Have something to add to the story? Share it in the comments below.