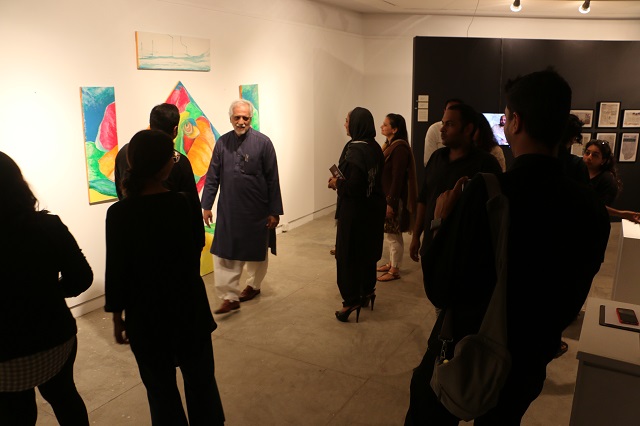 ---
KARACHI: The alumni of The Indus Valley School of Art and Architecture (IVS) gathered on Thursday at the IVS gallery to exhibit their time spent in IVS and how it impacted their life after the graduation.

Returning after a five-year hiatus, the IVS Alumni Show marked the graduation of 25 batches of the art and architecture school since its inception.

The theme of the show, "The Long and Short of it", focused on looking back into the artists' past, peering into their future and capturing their present.

The show exhibited the work of 17 participating artists selected by an external jury comprising Sameera Raja, manager of Canvas Gallery, Karachi, and Adeeluz Zafar, renowned artist and educator.

Works of graduating IVS students on display

"When I was asked to prepare something for the exhibition, the first thing that came into my mind was a puzzle. Hence, my art work represents a puzzle covering events in my life in Karachi and the years I spent in IVS. I have tried to capture 25 years of my life in one image," said, Moyena Niazi, one of the alumni who displayed her work at the exhibition.




Another artist, Babar Shiekh, demonstrated, through his work, the change in techniques and elements of art over the years. "During my years at Indus in the late 90s, we witnessed that very era when elements and techniques changed form - an industrial revolution all over again in the design and art universe. I've tried to encapsulate that very change into a singular yet multidimensional statement," he said.

IVS says farewell to its 25th batch

One of the alumni, Sadia Salim, speaking to The Express Tribune about her work, said that she created her work as she observed ordinary things in everyday life. "The work, presented in this exhibition, began as a way to record, retain and remember a landscape, just as one would make a sketch or capture an image. I am able to see art in the everyday," she said.

The exhibition was followed by a performance by a band called 'Early Alarms' that featured IVS alumni.

Published in The Express Tribune, August 9th, 2019.
COMMENTS
Comments are moderated and generally will be posted if they are on-topic and not abusive.
For more information, please see our Comments FAQ