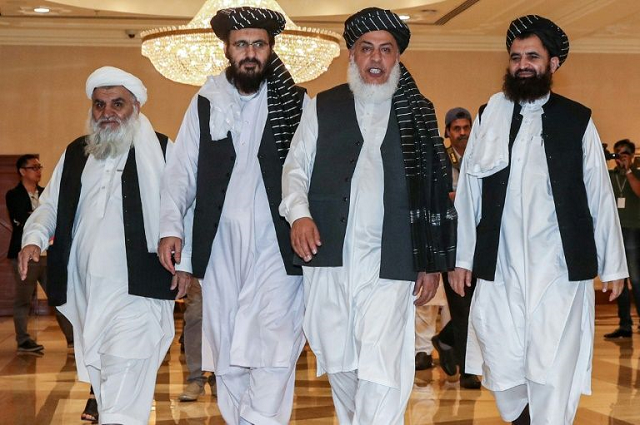 ---
ISLAMABAD: Pakistan has conveyed to the United States, through diplomatic channels, that Indian decision to scrap the special status of disputed Kashmir region will have serious implications not only for peace in the subcontinent but can potentially derail ongoing efforts to seek a political solution to the Afghan war.

In an unprecedented move, Indian government led by Prime Minister Narendra Modi abrogated Article 370, which gave special status to the occupied territory, through a controversial presidential decree.

Pakistan was quick to reject the decision, declaring it as violation of United Nations Security Council resolutions since Kashmir is an internationally recognized dispute.

India abolishes occupied Kashmir special status with rushed decree

Observers believe that this controversial decision has the potential to re-ignite tensions between the two nuclear-armed neighbours as India prior to the announcement sent additional troops to the valley as well as to the Line of Control (LoC).

It is all happening at a time when Pakistan is facilitating the Afghan peace talks, which have now entered a decisive phase.

When US special envoy Zalmay Khalilzad made a stopover in Islamabad last week, tensions were building up in the disputed territory with sudden announcement by India asking tourists and pilgrims to cut short their stay in Kashmir.

Khalilzad met Prime Minister Imran Khan, Army Chief General Qamar Javed Bajwa and held talks with Foreign Minister Shah Mehmood Qureshi during his two-day visit.

The focus of the discussion was on the Afghan peace talks. But the foreign minister brought up the issue of Kashmir with Khalizad while sensing the Indian plans.

A foreign office official, who requested anonymity, told The Express Tribune that Qureshi communicated to the US envoy that any major development in Kashmir could negatively affect the ongoing peace efforts in Afghanistan.

The official added that Khalilzad was informed about Pakistan's apprehensions that India might be up for 'something big' to undermine peace efforts.

Kashmir flare-up: UN urges Pakistan, India to 'exercise maximum restraint'

Qureshi then went on to request Khalilzad to convey Pakistan's concerns to the US leadership.

Pakistan's biggest worry is that any tension with India at this stage will make it difficult for the country to focus on the Afghan peace plan.

Officials here feel that India is deliberately stoking tensions in the region since it is upset with Pakistan once against taking the centre stage of Afghan peace process.

"That is big setback for India because Modi government has been working tirelessly to seek diplomatic isolation of Pakistan," said a foreign office official.

"On the contrary, the recent visit of our prime minister and positive role Pakistan is playing in the Afghan reconciliation has brought us in the centre stage," the official added.

Foreign Minister Qureshi, recently in an interview, also expressed concerns over the possible negative fallout of tensions in Kashmir on the Afghan peace process. However, at that time it was still not clear if India was planning to scrap the Article 370.

Now, the decision has been taken, the concern here is that this may lead to renewed tensions between Pakistan and India.

Sources said Pakistan would bring the evolving situation to the notice of the Trump administration. The issue would figure prominently when Alice Wells, senior American diplomat, looking after for South and Central Asia, begins her trip to Islamabad this week.
COMMENTS
Comments are moderated and generally will be posted if they are on-topic and not abusive.
For more information, please see our Comments FAQ