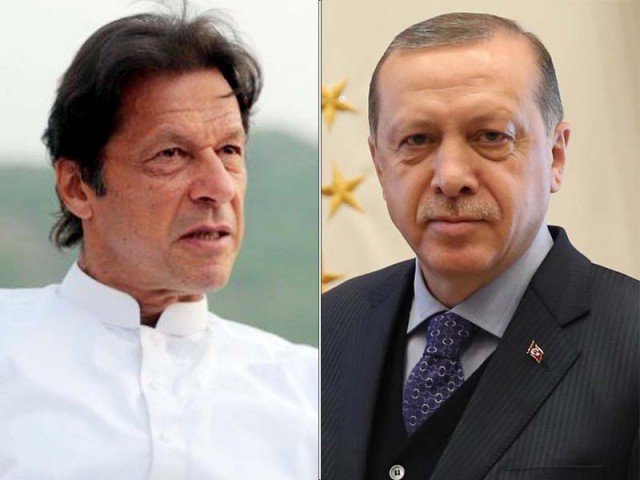 ---
Turkey's President Turkish Recep Tayyib Erdogan assured on Monday Pakistan of Turkey's support on the developing situation in Indian Occupied Kashmir (IOK).

India's government revoked the special status of occupied Kashmir and rushed through a presidential decree in a bid to fully integrate its only Muslim-majority region with the rest of the country, hours after imposing a major security clampdown in the region.

Home Minister Amit Shah told parliament that the Indian president had signed a decree abolishing Article 370 of the constitution giving special autonomy to the Muslim-majority Himalayan region.

Occupied Kashmir and Ladakh will now be Union Territory with a legislature.

Malaysia PM Mahathir expresses concern over occupied Kashmir's situation

Prime Minister Imran Khan, as part of outreach to world leaders on the recent developments in IOK, telephoned Erdogan.

"President Erdogan shared the concerns on the developing situation in Indian Occupied Kashmir and assured of Turkey's steadfast support in this regard," a statement issued by the PM House said.

PM Imran told the Turkish president that India's illegal actions to modify the special status of occupied Kashmir would have serious implications for regional peace and security.

He reiterated that Pakistan would continue its diplomatic, moral and political support to the just cause of Kashmiri struggle for their right to self-determination, as enshrined in the United Nations Security Council resolutions.

Earlier in the day, the prime minister also spoke to Malaysian Prime Minister Tun Mahathir bin Mohamad who expressed concern over the situation in the IOK.
COMMENTS
Comments are moderated and generally will be posted if they are on-topic and not abusive.
For more information, please see our Comments FAQ