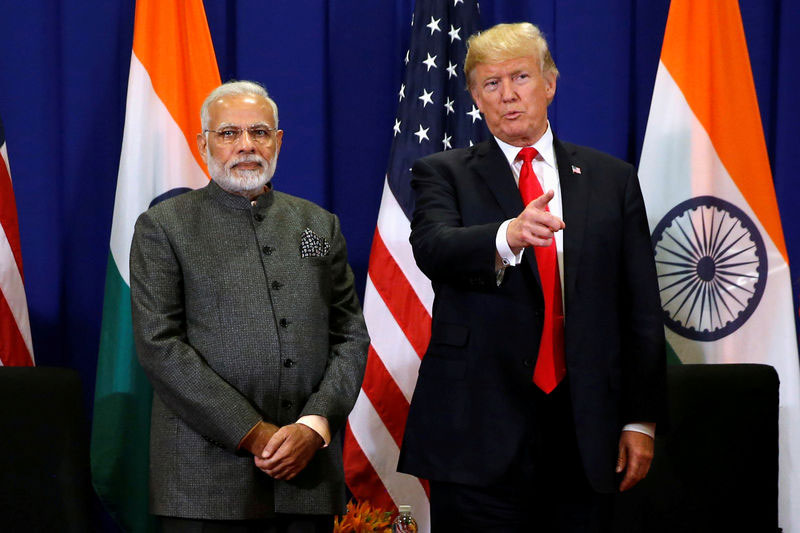 ---
KARACHI: US President Donald Trump has reiterated his offer to mediate between Pakistan and India on the festering dispute over the Himalayan region of Kashmir – much to the consternation of New Delhi which is averse to the very idea of mediation. Trump also said he reckons the prime ministers of Pakistan and India "are fantastic people" and "could get along very well".

Hyperventilating Indian television anchors went into nationalistic frenzy late last month when Trump revealed that Prime Minister Narendra Modi had requested him to play mediator over Kashmir – an issue bedeviling relationship between India and Pakistan for the past 70 years.

Trump made the disclosure during a meeting with Premier Imran Khan on July 23 before going on to add that he would be glad to play mediator between Pakistan and India on Kashmir.

"I was with Prime Minister Modi two weeks ago," Trump recalled. "He actually said, 'Would you like to be a mediator or arbitrator?' I said, "Where?" He said, 'Kashmir.' Because this has been going on for many, many years. I was surprised at how long it's been going on," Trump said speaking alongside Imran at the White House.  "I'd love to be a mediator."

While Islamabad welcomed the US president's offer, New Delhi was quick to flatly repudiate Trump's disclosure.

"We have seen [Trump's] remarks to the press that he is ready to mediate, if requested by India & Pakistan, on Kashmir issue. No such request has been made by PM Narendra Modi to the US President," Indian foreign ministry spokesperson Raveesh Kumar wrote on his official Twitter handle.

The loudmouthed Indian TV anchors went as far in their jingoistic frenzy as to call Trump a 'liar', though Modi has been keeping a mum despite creshendoing calls from the opposition for a clarification or denial. According to Indian commentators Modi is silent because it would be 'ridiculous' for him to call the US president a liar in parliament.

Pakistan's former foreign secretary Shamshad Ahmad said, "Modi has to be silent because he did convey this to Trump. He is troubled by the [Kashmir] freedom struggle that is now taking a toll on the Indian economy."

While India was in denial, Trump's chief economic adviser on July 24 rejected the suggestion that the US president had "made up" the claim that Modi requested him for mediation on Kashmir. "The president does not make anything up," Larry Kudlow told a reporter at a White House briefing.

But just when the debate on Trump's disclosure started to die down in India, President Trump reiterated his Kashmir mediation offer on Thursday. He said he would intervene if the leadership of the two countries "required him to do so".

When quizzed by a reporter about India's rejection of mediation, Trump asked: "Have they accepted the offer or not?" When told no, he said: "It is really up to Prime Minister [Narendra] Modi."

"I met Prime Minister [Imran] Khan, I got along great with [the premier]. I think they are fantastic people — Khan and Modi — I mean, I would imagine they could get along very well," he added.




"But if they wanted somebody to intervene, to help them [...] and I spoke with Pakistan about that and I spoke frankly in India about it [...] that battle has been going on for a long time."

"If I can, if they wanted me to, I would certainly intervene," Trump said.

Former foreign secretary Ahmad said Pakistan has always welcomed diplomatic engagement. "And President Trump's offer to mediate is a unique opportunity for both sides," he added.

Such diplomatic openings between India and Pakistan are rare and few. A similar offer was made by candidate Barack Obama more than a decade ago. But the Kashmir issue was placed on the backburner once Obama took office.

"This not just a unique opportunity for Pakistan and India but also for President Trump, who happens to be the first sitting US president to offer to mediate between India and Pakistan on the Kashmir issue," said Shamshad Ahmad, who also served as Pakistan's Permanent Representative to the United Nations.

"If negotiated – a peace deal between India and Pakistan would be a great diplomatic achievement for President Trump too," he added.

However, India in its knee-jerk reaction again spurned the idea of mediation on Kashmir. And this time it came from Indian Foreign Secretary Subrahmanyam Jaishankar, who said they have conveyed their stance to US Secretary of State Mike Pompeo.

"[I] have conveyed to American counterpart @SecPompeo this morning in clear terms that any discussion on Kashmir, if at all warranted, will only be with Pakistan and only bilaterally," he wrote on popular microblogging site Twitter.

"Trump's offer only adds more pressure on India to resolve the Kashmir Issue," the diplomat added.

In a brief statement about the Pompeo-Jaishankar meeting, the US State Department, however, did not mention Kashmir or the mediation offer. It said Pompeo and Jaishankar "discussed our shared commitment to upholding the rule of law, freedom of navigation, and democratic values in the Indo-Pacific region".

Foreign policy experts believe Modi's India would not respond positively to Trump's offer primarily because of the conservative politics at home and the opposition in India.

"The situation in Indian Occupied Kashmir is beyond Modi's control. They don't want to be seen to negotiate from a position of weakness," said Ambassador Ghalib Iqbal. He said the Kashmir solution is partly linked to Pakistan's ability to help the US negotiate a peaceful exit from Afghanistan.




"If Pakistan can deliver a peace deal in Afghanistan, the US will be obliged to help us on the Kashmir issue," Iqbal said.

"I don't see the three leaders directly taking part in the negotiations on Kashmir. I do believe negotiation will take place between India and Pakistan while the US will use backchannel diplomacy to influence the outcome," he added.

In Islamabad's diplomatic circles,  President Trump's mediation offer is diplomatic setback for New Delhi.

"Trump's statement is jolt for India. It is a huge development for Pakistan and now India is compelled to negotiate," said Ambassador Ahmad.

"We should also engage China and Russia as they are equal stakeholders in this region's peace," he said, adding that no solution was possible without the including the Kashmiri's to the negotiating table.

"Trump's comment will be read with trepidation in New Delhi and is likely to impact US-India relations which are already strained under the S-400 deal with Russia and trade tariffs," said Syed Hassan Akbar, Director Programs at Jinnah Institute.