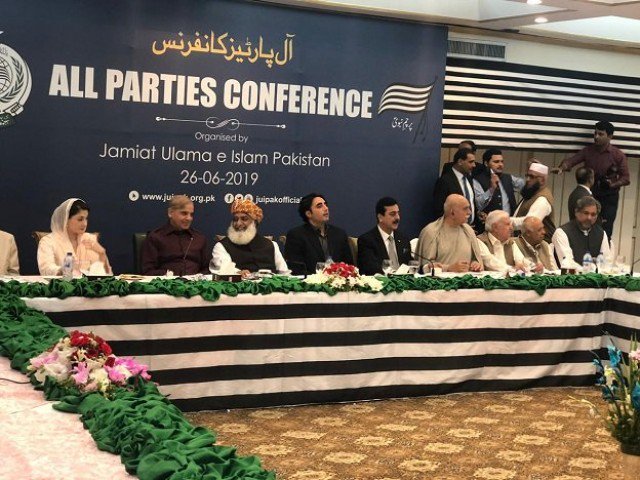 ---
Dear Opposition:

Did you enjoy wasting time? Because that's what the All Parties Conference (APC) was. You hear that faint noise across horizon? That's the sound of a collective whimper.

If all of you — the rainbow coalition of Opposition grandees — were reading the tea leaves properly, you would not be surprised at the great underwhelming that your APC has produced. Not a bit. Perhaps the deceptive and mercurial power of optics is getting the better of you and perhaps that's why photo-ops like the APC are high on your agenda. Such events make for some headlines, some smiley pictures, some chatter and then, just like that, it fades into nothingness.

So here's a bit of unsolicited advice: Snap out of your delicious delusion. When you do so, the lay of the land will present to you a clear picture with some hazy edges. Here's what it shows:

The Imran Khan government is struggling on every front. It has passed one of the harshest budgets in recent memory. It is sitting atop a powder keg of crippling inflation, slowing growth and increasing taxation. It is bracing to face a backlash from opponents and supporters alike. It has given the country no real roadmap to redemption. It has many non-serious members masquerading as ministers. It is obsessing with accountability at the expense of everything else. It has done almost no legislation. Nor is it expected to. It is, in short, a disappointment.

And yet it is as secure as any government can be.

More of this later. But first, allow me to layer out why all of you, combined, are failing to have the kind of impact on our landscape as you erroneously believe you are. So buckle up for some jarring words:

You think you can create a ruckus in the parliament and unhinge the government. Wrong. Yes you do create nice optics for us in the media and bait the naïve Treasury benches well; yes you do deliver some sarcastic speeches and pointy barbs that elicit derision for the government; and yes you have succeeded in making the word "selected" a point of constant irritation for the government and merriment for the public, but…

If you think sarcastic speeches, cutting barbs, and fun over "selected" variations will make the government weak, then I too shall have what you're smoking.

There's more. You want the government out but you do not have the numbers in the parliament. Even you would have known that BNP (Mengal) was flirting with you to enhance its bargaining position with the government. As for the MQM, well were you ever in doubt that they would cross over to your side if the government did not meet its demands?

If the government's parliamentary flank is secure, you want to threaten it with mass agitation. Right, let's unpeel this myth. First, can you can bring tens of thousands of disenchanted Pakistanis on to the streets and lay siege to Islamabad? Second, can you sustain such a dharna etc. even if you were to manage the crowds in this heat? Third, have you done any mass galvanisation for such an agitation in the months leading up to the Budget? Fourth, do you have the support of the Establishment to embark on a street collision with the government? Here are the short answers to these four questions:

No, no, no and no.

So what was the APC all about other than displaying an all parties' confusion? Maulana Fazlur Rehman has zero stakes in the present system. As the host of the conference he brought forward two proposals: one, Opposition should resign from the parliament; two, Opposition should raise the issue of blasphemy card against the prime minister. Both were shot down with the contempt they deserved. Other vague steps like observing a black day and holding anti-government rallies etc. matter little. The only tangible outcome from the APC was the 'agreement' to vote out the Senate chairman. The question however is this:

You have the numbers to oust Sadiq Sanjrani, but do you have the will?

Here's where we come back to the original question of why the government seems to be insured against the fallout of its own incompetence. Dear Opposition, if you were reading the tea leaves correctly, you would know that the Establishment is still firmly propping up the PTI government which in turn means the political landscape is not fertile for conspiracies that have traditionally brought governments down. Both of you, PPP and PML-N, should know this since you have been on both ends of such conspiracies.

So what can you, the Opposition, do that you are not doing? For starters, you may want to focus on presenting yourself as a genuine alternative to PTI. Doing so means overcoming and neutralising factors which have damaged your narrative i.e. corruption. This requires a spirited and substantive defence both in the court of law and in the court of public opinion.

Then you need to graduate your criticism beyond simple name-calling. This name-calling has served the purpose of reinforcing the perception that the government is incompetent but now it may have run its course. In the 2018 elections, there were a large number of undecided voters who had voted for PTI at the end. The most commonly cited reason for their decision, as per surveys, was "we have tried all parties so let us give Imran Khan a chance". Many of these people are now disillusioned with PTI's governance and need a reason to take another look at the Opposition parties. They will do so only when the Opposition parties can present a viable and mature counter-narrative through well thought out policies and well worked out solutions.

Voters are not the only audience for such prescriptions. The Establishment also needs to be convinced that PTI is not the proverbial 'last man in' and there is still some batting left in the Opposition lineup. This will require you, the Opposition leaders, to craft your strategies within the new arena you find yourself in post-2018 elections. Reality can dictate its own perceptions and it is such perceptions that you may want to stitch together if you want a realistic shot at making a comeback.

APC-like events are a waste of time at this point. The contest now between PTI and the Opposition is less of kabaddi and more of chess. In chess you win by out-thinking your opponent. That's what, dear Opposition, you need to do. If you can.

Published in The Express Tribune, June 30th, 2019.

Like Opinion & Editorial on Facebook, follow @ETOpEd on Twitter to receive all updates on all our daily pieces.
COMMENTS (1)
Comments are moderated and generally will be posted if they are on-topic and not abusive.
For more information, please see our Comments FAQ