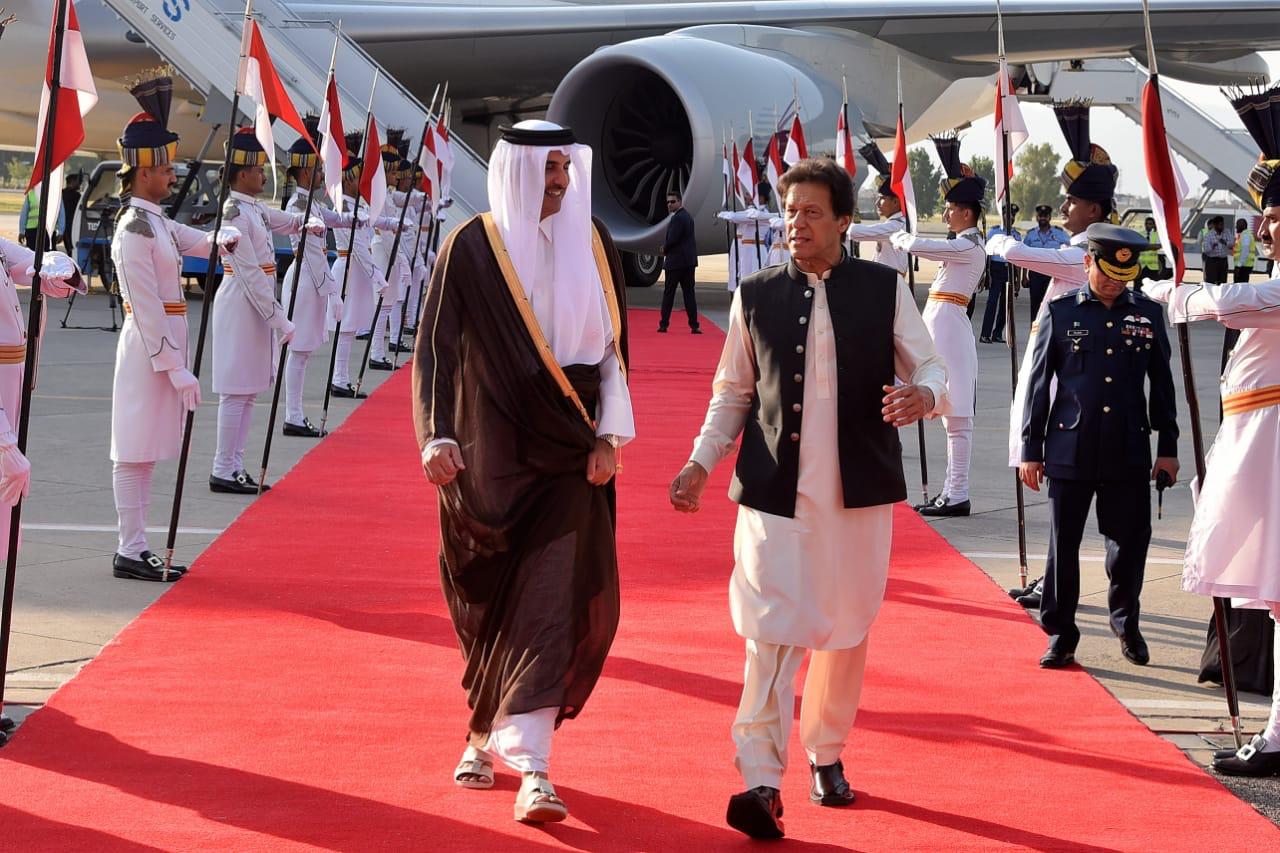 ---
ISLAMABAD: Doha on Monday announced new investments worth a total of US $3 billion in the form of deposits and direct investments to Islamabad through a statement issued by the Qatari Foreign Ministry

"The Qatari support comes after Emir of Qatar Sheikh Tamim bin Hamad Al Thani's [two-day] visit to Pakistan to underscore the deep relations between the two brotherly countries and peoples," said Deputy Prime Minister and Minister of Foreign Affairs Sheikh Mohammed bin Abdulrahman Al Thani.

He said Qatar's financial support for Pakistan also expresses Doha's confidence in the strength of Pakistan's economy and the vision and good management of the current government headed by Prime Minister Imran Khan.

MoUs signed as Qatar's emir arrives on two-day visit to Pakistan

"By announcing this new investment package on Monday, the size of the Qatari-Pakistani economic partnership will amount to nine billion US dollars," the Qatari foreign minister said in a statement released by Qatar News Agency (QNA)

Earlier, adviser to Prime Minister on Finance Dr Abdul Hafeez Shaikh made the announcement through his Twitter handle while Special Assistant to Prime Minister on Information Dr Firdous Ashiq Awan confirmed the development while talking to media after attending a meeting with newspaper editor.

"I want to thank the Emir of Qatar HRH Sheikh Tamim Bin Hamad Al Thani for announcing $3 billion in deposits and direct investments for Pakistan and for Qatar's affirmation to further develop relations between the two countries," tweeted Dr Shaikh on Monday.

This $3 billion package from Qatar has brought the total loans offered to Pakistan by four friendly countries in almost one year to nearly $16 billion. The announcement has come three days before Pakistan is scheduled to make about $700 million repayment to its international creditors.

The Finance Ministry did not immediately provide the break-up of the $3 billion Qatar aid.  It was not clear how much of the amount is in shape of deposit that will land in the State Bank of Pakistan (SBP) to provide temporary cushion to the dwindling reserves.

There were unconfirmed reports that the cash quantum may not be more than $800 million. Finance Ministry's spokesman Dr Khaqan Najeed declined to comment on the loan component in the $3 billion package.

Pakistan is scheduled to make about $700 million debt repayment this week, which is going to hit its already low reserves. Qatar's Emir ended his two-day visit to Pakistan a day earlier and there was no mention of $3 billion aid package in the official handout.

Qatar emir's visit to boost economic ties

The tiny Gulf state is the fourth nation that has come forward to rescue Pakistan from default during past 11 months. Earlier, China has given $4.6 billion in shape of deposits and commercial loans and Saudi Arabia provided $3 billion cash deposit and $3.2 billion oil facility on deferred payments.

The United Arab Emirates – which is in a dispute with Qatar – also provided $2 billion cash deposit, which was lower that what it had initially promised to give to Pakistan.

The sources in the Finance Ministry had told The Express Tribune that the UAE withheld release of the last tranche of $1 billion after Prime Minister Imran Khan visited Qatar early this year.

The terms of the Qatari financial assistance have not been shared by the Finance Ministry. Chinese have provided SAFE deposit of $2 billion at around 1 per cent interest rate and $2.6 billion at around 5.5 per cent interest rate. The Saudi and UAE loans have been received at over 3.2 per cent interest rates.

Despite these massive inflows, the official foreign currency reserves held by State Bank of Pakistan (SBP) stood at only $7.6 billion as of June 14.

Pakistan has also reached a staff-level agreement with the International Monetary Fund (IMF) for a $6 billion bailout package, which is expected to be approved by the IMF Executive Board on July 3.

However, the IMF has placed a condition to get rollover the short-term loans obtained from Saudi Arabia, China and the UAE.

In addition to securing $15.8 billion from four friendly countries, the Pakistan Tehreek-e-Insaf (PTI) government has also obtained nearly $6 billion worth of loans, from multilateral agencies, commercial banks and other bilateral sources.

The government is going to make a new record of foreign borrowings in one year. Pakistan is also required to convert its short term loans into long term borrowings aimed at improving the debt profile. It currently pays 41 per cent of its budget in debt servicing.

The successive governments' inability to enhance exports has increased the country's reliance on bilateral and multilateral creditors. The exports further slipped over 1 per cent during first 11 months of the PTI government.

During the visit of Qatari Emir, Pakistan and Qatar had also signed the three memoranda of understanding (MoU). The MoU for establishment of Pakistan and Qatar Joint Working Group (JWG) on trade and investment was signed by Qatar Finance Minister Ali Shareef Al Emadi and Adviser on Commerce Abdul Razak Dawood.

The MoU for cooperation in the field of tourism and business events was signed by the Qatar National Tourism Council Secretary General Akbar Al Baker and Inter-Provincial Coordination Minister Fehmida Mirza.

The MoU for establishment of cooperation in the field of exchange of financial intelligence related to money laundering associated predicate offences and terrorism financing was signed by Qatar's Financial Information Unit and Pakistan's Financial Monitoring Unit.
COMMENTS (1)
Comments are moderated and generally will be posted if they are on-topic and not abusive.
For more information, please see our Comments FAQ