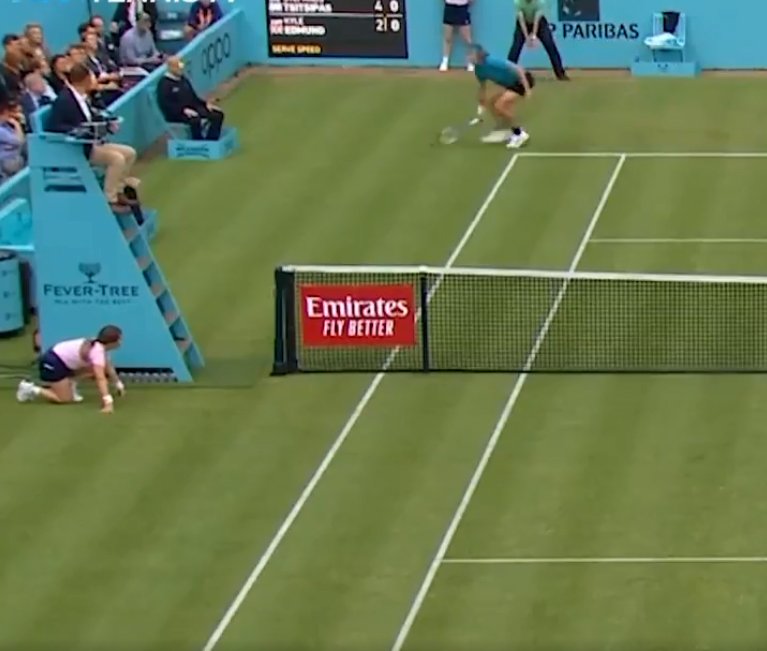 ---
Mostly line judges in tennis make it to the news due to controversial decisions, but Stefanos Tsitsipas on Wednesday brought one into the limelight for some other reason, a hurtful one.

During the first set of the match, Tsitsipas reached out for a return but the ball hit the frame of his racquet and smashed right into the face of the line judge.


WATCH: When a tennis match broke into a football one


Although it was a mistake, Tsitsipas still reached out to find out if the judge was alright and if the match could continue.

Everyone let out a sigh of relief after the judge showed a thumbs up to Tsitsipas.


Dangerous business, being a line judge 😳

Also, is that chair at #QueensTennis cursed? (If you know, you know 👀) pic.twitter.com/pkUUFK3ptT

— Tennis TV (@TennisTV) June 19, 2019


The match between Tsitsipas and Kyle Edmund saw a washout which means the Greek will have to play the match today [on Thursday].

The match was stuck at three games each in the second set after Tsitsipas had won the first set 6-3.


Frightening ball boy injury scares fans, commentators at Halle Open


Earlier on Wednesday, another incident shook the crowd with fright when a ball boy slipped while retrieving the ball during the Halle Open in Germany.

He was taken off on a wheel chair and later it was revealed that he hadn't incurred any serious ankle or knee injury.
COMMENTS
Comments are moderated and generally will be posted if they are on-topic and not abusive.
For more information, please see our Comments FAQ