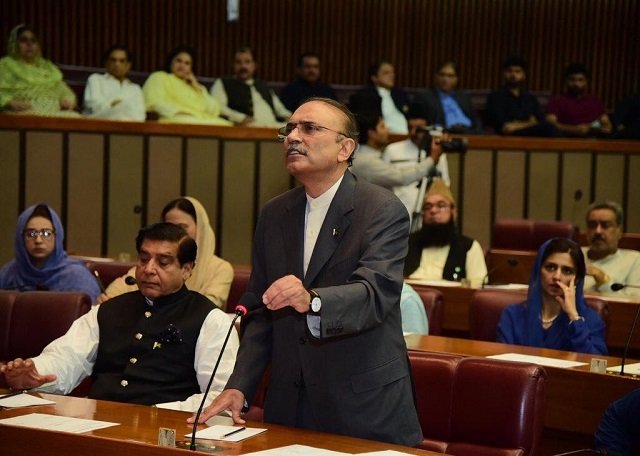 ---
ISLAMABAD: Former president Asif Ali Zardari has said the real issue to ponder over is that if Imran Khan's government is ousted, who will come next.

"If political forces do not step up to oust the incumbent government, someone else will," said the Pakistan Peoples Party (PPP) co-chairman while talking to the media outside the Parliament House on Thursday.

Zardari was accompanied by his son, PPP Chairman Bilawal Bhutto Zardari.

The PPP co-chairman said, "Make as many cases as you can against me … I don't care, but what I do care about are the people."

To a question about appointment of Hussain Asghar as the head of the debt inquiry commission, Zardari said, "We have objections from top to bottom."

To another question whether he was satisfied with the NAB investigation, the former president said, "Those who do good may they be well off, and those who don't, may they be well off too. We are not those type of people who coerce others; we are the ones who love."

To this, PPP Chairman Bilawal said, "This is the philosophy of my father. Mine, it might not remain." Bilawal said the decision to change the Senate chairman would be taken at the All Parties Conference.

Zardari said, "My spirits are high, but why are the outsiders tired. It is good that the production orders have been issued on the pressure from the opposition. The speaker is weak and powerless."

Earlier, Zardari was brought to the Parliament House by NAB officials who handed him over to the parliament security sergeant.

Bilawal welcomed his father upon arrival. The two embraced each other while Zardari kissed Bilawal's forehead. Aseefa Bhutto Zardari and Bakhtawar Bhutto Zardari were waiting for their father in Bilawal's chamber. Zardari spent time talking with each of his daughter separately.

The PPP leaders and workers chanted slogans on Zardari's arrival. Zardari remained at the Parliament House for about six-and-a-half hours and participated twice in the NA session during which he held informal consultation with Bilawal and other senior PPP leaders.