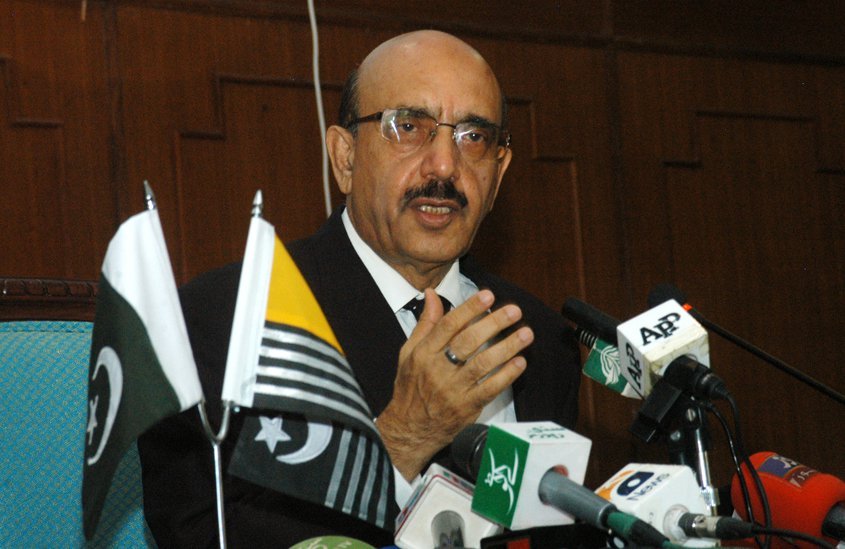 ---
ISLAMABAD: Kashmiri leaders have stressed upon the governments of Pakistan and India to resume dialogue aimed at bringing peace and security in South Asia.

"We have to approach the overseas Kashmiris for promoting the Kashmir cause and exposing Indian state terrorism," said AJK President Sardar Masood Khan while addressing a conference titled 'Kashmir Freedom Struggle and Challenges' at the Kashmir House here on Monday.

The conference was jointly organised by Jammu and Kashmir Salvation Movement (JKSM) and Tehreek-e-Kashmir (TeK), United Kingdom.

AJK President Masood hailed the efforts of TeK President Faheem Kayani, saying he "is now the symbol of Kashmir struggle in UK and Europe".

"The third generation of Pakistanis and Kashmiris settled in UK and Europe must be approached for highlighting the Kashmir cause at international level," said the AJK president, adding that the Kashmir issue was now the issue of Indian Muslims and Pakistan as the government in New Delhi had a unanimous agenda against Kashmiris, Indian Muslims and Pakistan.

The president said all the Kashmiri leaders of Indian Occupied Kashmir (IOK) rendered great sacrifices and "we have a great respect for them while the women leaders of IOK, including Asiya Andrabi and Zamarud Habib, have rendered matchless sacrifices and we all are proud of them".

TeK's Kayani condemned the unrelenting incidents of harassment of political leaders and activists in IOK, terming it a serious infringement of United Nations (UN) conventions and international protocols on peaceful political activities and struggle.

He appealed to the United Nations (UN), the European Union (EU), and other global human rights organisations to use their offices to persuade India to stop arresting political workers and their sympathisers in IOK where so far "more than 90,000 peaceful Kashmiris have lost their lives since 1990s just for demanding the right of self-determination" under the UN resolutions.

He also appealed to the world community and global human rights organisations to use their good offices to ensure safety and security of political activists, women, school-going children and opinion makers in IOK.

JKSM Chairman Altaf Bhat said that harassment of the families of political workers and other social and non-governmental organisations at the hands of Indian forces in a bid to pressure them to stop demanding the implementation of UN resolutions on Jammu and Kashmir dispute "is unfortunate".

Bhat deplored denial/withholding of travel documents of political leaders Syed Ali Shah Geelani, Mirwaiz Umar Farooq, Yaseen Malik and Zafar Akbar Bhat, demanding of the international community that they be allowed to travel abroad from IOK to discuss ways for permanent settlement of the Kashmir dispute.

He also demanded an end to the censorship imposed on media by the Indian government and frequent shut downs of internet services to stop people from taking to social media to voice their feelings.

All Parties Hurriyat Conference (APHC) leaders Syed Faiz Naqashbandi, G M Safi and Mahmood Ahmad Sagar expressed heartfelt condolences with the family members of all those Kashmiri political leaders and activists who fell victim to the savagery of Indian troops over the past three decades while carrying out their political activities in IOK.

In the conference, a resolution was passed while extending solidarity with the family members of political workers who either were martyred or sent to jail by the National Investigation Agency.

Through the resolution it was also demanded to release all political leaders, including Shabir Ahmad Shah, Asiya Andrabi, Nayeem Ahmad Khan, Dr Qasim Fakhtu, Mussarat Alam and others.

The resolution also demanded lifting of the ban on Jammu and Kashmir Jamaat-e-Islami (JKJI), Jammu and Kashmir Liberation Front (JKLF) and immediately release JKJI Ameer Dr Abdul Hameed Fayaz, JKLF Chairman Yaseen Malik and others.

The world community and human rights organisations must take notice of the latest 18-month-old pellet victim of Kashmir Hibba Nisar, who was injured by the pellets fired by Indian troops at her face.

This conference also denounces the rising continuous ceasefire violations on the Line of Control (LoC) by the Indian army to target the civilians and unarmed people of AJK and appealed to the world community to put pressure on New Delhi to stop the target killing of civilians.