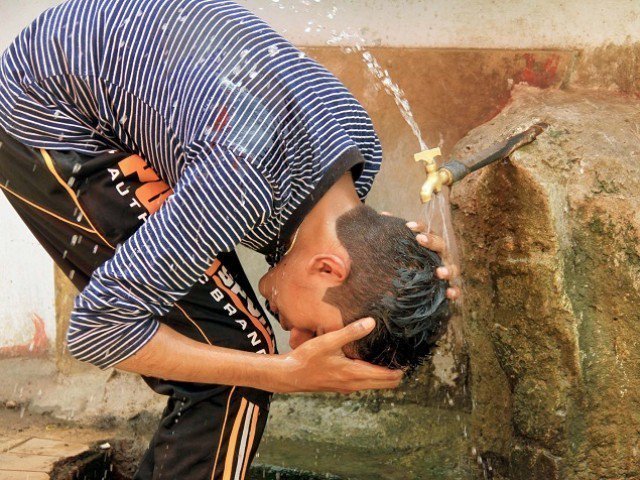 ---
KARACHI: Pakistan Meteorological Department (PMD) has predicted another heatwave in the city. On Tuesday the weather became extraordinarily hot due to suspension of wind and change in its direction caused by Cyclone Vayu in the Arabian Sea.

According to an advisory issued by the heatwave centre, mercury can touch 40 degree Celsius between Thursday to Saturday while extremely hot and gusty winds are also expected to blow besides the unusual increase in humidity level.

The Met Office issued another advisory regarding the cyclone, stating that the depression in the Arabian Sea had become deeper and formed into a storm. India has named it Vayu. The advisory also stated that it was unlikely that the cyclone would lead to any rainfall in Karachi but added that it can possibly cause a heatwave which would begin on Thursday and last till Saturday.

The direction of winds will change and the winds blowing from the sea will be suspended. Heavy rain with thunderstorm and windstorm is expected in different districts of Sindh, including Thatta, Mitthi, and Tharparkar, as a result of the cyclone. Cyclone Vayu was at a distance of 1,150km south of Karachi on Tuesday morning and is headed towards Gujarat, India. The depression in the sea formed into a storm on Tuesday evening. The winds are also blowing at a speed of 90km per hour.

Met department has also warned fishermen against setting sail for fishing expeditions between Wednesday and Thursday. The increase in the height of tides and roughness in the sea is expected during the next three days.

The temperature of Karachi on Tuesday was recorded at 37.7 degree Celsius while the humidity level in the air was 68% therefore, the day was comparatively hot. South western winds blew from the sea at a speed of 22km per hour throughout the day.

Published in The Express Tribune, June 12th, 2019.