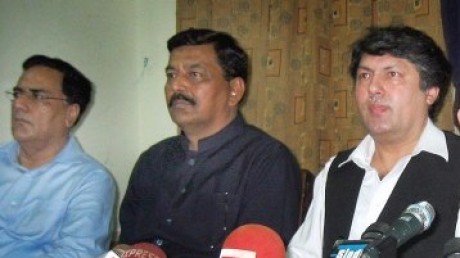 ---
KARACHI: All Pakistan Muslim League (APML), the political party formed by former president Pervez Musharraf, launched its Sindh chapter at the Karachi Press Club on Tuesday.

"We have tapped into trade unions, student organisations and political figures who are soon going to join us," said Barrister Muhammad Ali Saif while addressing a press conference. However, he did not name any of these organisations or people.

Saif was accompanied by Major General (retired) Rashid Qureshi, the former DG Inter-Services Public Relations and spokesperson for Musharraf, as well as a few retired bureaucrats. "We don't have to work hard to convince people; they are approaching us in large numbers to become members," claimed Saif.

He added that Musharraf's popularity was increasing in the West and many heads of state lauded his role and ideology. "I receive letters from Indian journalists who admit that Musharraf had a persona and that he outsmarted the media in the country that was considered an enemy," said Qureshi.

To a question regarding Musharraf's alleged involvement in Benazir Bhutto's assassination, Qureshi said that the present government is not doing anything to probe the case. "Nobody dared take Musharraf's name and he was not responsible," he added.

To questions about the Lal Masjid operation and violation of the Constitution, Saif said that this was not the right time and forum to talk about these issues. As for funding, he said they believe that only Allah and the people of the country can help them and that they have not received any foreign funding. When asked about when Musharraf would return to Pakistan, Qureshi said that he could not give the exact dates but that he is likely to return just before the next general elections.

In response to a question regarding how they planned to gather support from the general public when Musharraf's following is only on Facebook, Saif said they would contact the general public as well to maintain a balance.

Published in the Express Tribune, June 9th, 2010.


COMMENTS (153)
Comments are moderated and generally will be posted if they are on-topic and not abusive.
For more information, please see our Comments FAQ