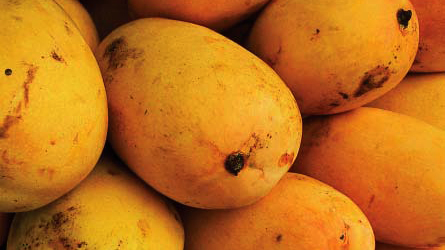 ---
KARACHI: Agricultural crops, mangoes in particular, have been significantly affected by the heavy rains that lashed the country recently, said experts while speaking to The Express Tribune on Tuesday.

Waheed Ahmed, the Chairman of All Pakistan Fruit and Vegetable Exporters, Importers and Merchants Association, has placed crop losses at 25 to 30 per cent.

He said: "The crop had already been hit by an acute water shortage as we could not produce to the optimum and crops were damaged." Ironically, Ahmed stated, first the lack of water had been destroying the crops and after the rains, excess water had  washed the harvest away.

Referring to the export of mangoes, Ahmed said that the target of 150,000 tons would be difficult to achieve as export quality production of the fruit was insufficient and the rains had further affected the output.

He said that this year Pakistan had witnessed an increase in mango demand from Iran and Afghanistan and most of the local supply had been sent to these two countries, in addition to regular  export.

Meanwhile, the demand for mangoes has risen in the domestic market too, he said .

The simple mechanism of high demand and short supply has led to a hike in prices due to which mangoes this season are priced at least Rs10 per kg higher than the previous season, he added.

Rana Umara Imtiaz, Executive Business Manager of a local fruit and vegetable exporting company, said that while the mango and other crops of Sindh had been affected due to heavy rains, the same in Punjab were safe.

She said that harvest of Chaunsa, a popular mango variety, was most affected as it usually enters the market late in the season.

Haji Daria, a farmer in Hyderabad, said that Mekran and Thatta were the most affected places as rains hit hard there. He said that crops like cotton, banana and papaya were badly damaged while mango trees with their fruits still on them had also been affected.

He explained that contractors/middlemen who buy their produce to sell into the market also take advantage of the farmers in such situations as they refuse to pay the initial amount that is usually decided during the time of sowing.

"Some of the farmers stay put and demand the original price, but most agree to whatever the contractor is ready to pay fearing that they may even not get that" Haji Daria further informed.

He said that all the losses would be faced by the growers of the crops as the government offers no compensations to them in such times of crises.

Published in the Express Tribune, June 9th, 2010.


COMMENTS
Comments are moderated and generally will be posted if they are on-topic and not abusive.
For more information, please see our Comments FAQ