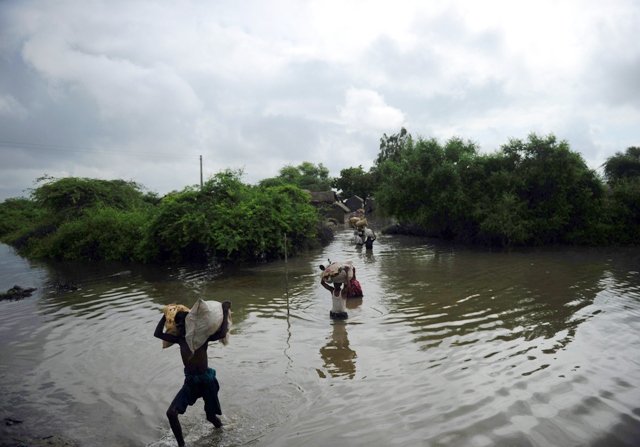 ---
ISLAMABAD: As part of collaboration on issues of climate change and dealing with calamities, Japan will help Pakistan in the installation of disaster warning system and to create awareness regarding the dangers of changing weather.

Moreover, three major automobile manufacturers of Japan are exploring investment opportunities in the electric car industry in Pakistan. These views were expressed by Japan's ambassador to Pakistan Kuninori Matsuda in a meeting with the Adviser to the Prime Minister on Climate Change Malik Amin Aslam.

The Japanese ambassador also appreciated steps taken by the incumbent government to mitigate disasters while assuring his country's cooperation in tackling challenges posed by climate change.

Acknowledging the environmental challenge facing the country, the PM's aide expressed his gratitude for the equipment provided by Japan to measure air pollution.

Pakistan is one of the countries affected by climate change and environment pollution, Aslam noted. "The problem has increased in Pakistan during the last few years, especially in Lahore," he added.

The provincial capital was caught up in the midst of an air pollution crisis during last winter, with its air quality index (AQI), an internationally accepted measure of pollution levels, went north of 300. When AQI values go above 100, the quality becomes unhealthy, particularly for sensitive groups, but if AQI values are higher it becomes unhealthy for everyone.

Ambassador Matsuda also offered training support for Pakistani experts to deal with natural disasters, establishment of an academy, seminars and workshops.

He said that the Japanese experts have vast experience of restoration of forests, which could be useful for the training of Pakistani experts. The Japanese envoy also offered the installation of the automatic warning system for natural disasters.

The PM's adviser said that the current Pakistan Tehreek-e-Insaf (PTI) led government was aware of the climate situation and was taking adequate steps to address it. He also briefed the Japanese ambassador about the green youth movement – a a training programme about environmental pollution and climate chance.

On the issue of electric cars, Aslam said that the PM had advised to formulate policy for the establishment of electrical car industry in Pakistan. "The draft of the policy is in its final stages," he continued.

"The production units of traditional cars are also small in number. The environment is conducive for the industry of electrical cars," he added.

Furthermore, he PM's adviser said that despite the challenges in the energy sector, Pakistan expects to produce more electricity than demand in the coming years.