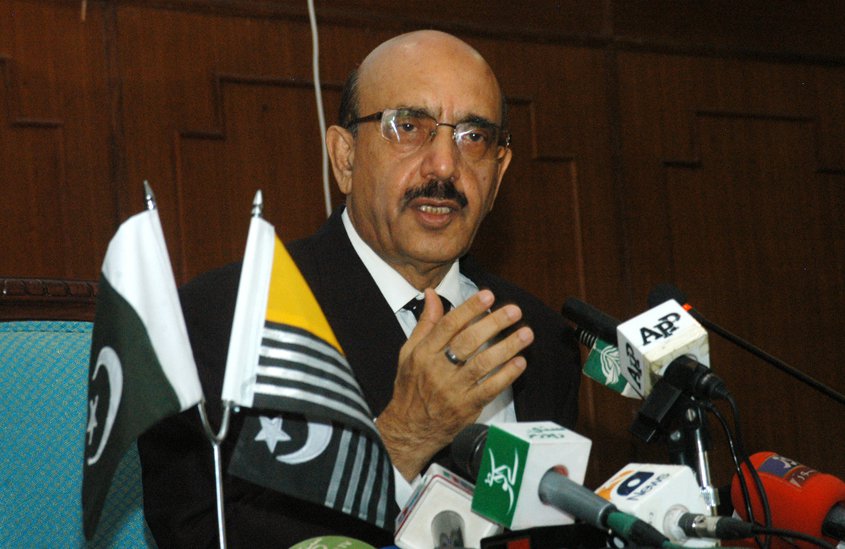 ---
Being a nuclear power, Islamabad is seen as an obstacle by New Delhi on its path to great power status in the region. This was stated by Azad Jammu and Kashmir (AJK) President Sardar Masood Khan on Thursday while speaking during a conference on "Enduring Rivalry – Post Indian Election Scenario in Occupied Kashmir". The conference had been organised by the Center for Global and Strategic Studies (CGSS).

Talking about "Kashmir: A pivot of Indo-Pak Crisis", he stated that India does not accept the creation of Pakistan and considers it a cardinal sin for which Pakistan must be punished.

"Indians believe that Pakistan stands in their way of becoming a great power," he said, adding that New Delhi constantly targets Pakistan and by that extension Kashmiri. The AJK president went on to lament that the west continues to tolerate India's atrocities and violation of human rights in occupied Kashmir. "Kashmiris are slaves and aliens in their own homeland," he remarked and recommended that Pakistan must be made a strong nation both strategically and economically to counter India.

"If we fail to become sound economically, then our struggle for Kashmir will suffer," he warned, recommending greater expenditure on defence and national security.

Noting that statecraft was required to forge national unity, Masood advised putting Kashmir back on the multilateral agenda apart from devising a strategy to respond to new developments.

Ambassador Abdul Basit, Islamabad's former envoy to New Delhi, stated that Pakistan lacks a coherent Kashmir diplomacy.

The government does not comprehend the dangers which lie ahead and our mistakes have allowed India to exploit the Kashmir case, he stated, adding that the parliamentary committee on Kashmir too had little to show by way of performance.

"We are not clear on how to deal with the Kashmir issue. Most of the time, we are stuck with feasibility instead of long-term goals," Basit stated, adding that India was in no hurry or mood to resolve the Kashmir issue.

Instead, Basit disclosed that a Bharatiya Janata Party (BJP) controlled New Delhi was working on the Rashtriya Swayamsevak Sangh (RSS) agenda to trifurcate Kashmir.

Even the Organisation of Islamic Conference (OIC) is not ready to stand with us on this [Kashmir] issue, he lamented, adding that there was a need to inject energy into Pakistan's Kashmir diplomacy.

Former federal law minister Ahmer Bilal Soofi spoke on "India's Human Rights Violations in Kashmir and the Role of United Nations".

He stated that there was a need to invest in Pakistani lawyers living and practising overseas to push this issue towards a positive outcome.

"We should look over legal diplomacy and bring back Kashmir to the centre point where it belongs."

Published in The Express Tribune, May 24th, 2019.
COMMENTS
Comments are moderated and generally will be posted if they are on-topic and not abusive.
For more information, please see our Comments FAQ