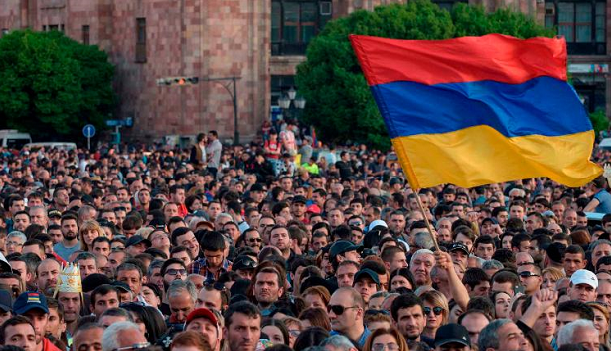 ---
A year ago, physicist Ruben Aidinyan was one of the tens of thousands who packed the main square of Armenia's capital as outraged protesters forced veteran leader Serzh Sarkisian to resign in the face of a popular uprising against corruption and poverty.

The heady days of the 2018 revolt in Yerevan's Republic Square may be over but for many Armenians like Aidinyan hope endures that their new leaders have set the impoverished Caucasus country on the right path.

"What we expected from the revolution is now coming true," said Aidinyan, 66, standing in the square -- the epicentre of mass protests that swept Armenia's corrupt elites from power.

The revolt erupted in April 2018 after Sarkisian tried to switch to become elected prime minister after serving ten years as president in a bid to stay in power.

The move proved the last straw for Armenians, long frustrated over the country's sluggish economy, entrenched poverty, and deep corruption.

Spearheaded by hugely popular opposition MP Nikol Pashinyan, weeks of street protests led to Sarkisian's resignation and the demise of his ruling party, drastically reshaping the country's political landscape.

Pashinyan was elected prime minister last May, promising democratic and economic reforms in the country of some three million people. After a year in office, the 43-year-old former journalist has achieved "radical change," said Aidinyan.

"I am now a free citizen of a free country, I can freely express my political views."

For another Yerevan resident, 30-year-old archaeologist Avetis Grigoryan, "one of the most important achievements since the revolution is that old corrupt officials have been replaced by honest and competent people."

"Every time I pass the (Republic) Square, I am overwhelmed with memories of the revolution," he said.

Grigoryan also took part in the weeks of protests last year to oust the old guard.

"I dreamed of a positive change in my country. That change is now taking place," he said.

At a press conference last week, Pashinyan listed 51,000 new jobs, rising wages and arrests of corrupt officials as among the "hundred achievements" of his cabinet over the last year.

Shortly after coming to power, Pashinyan launched a sweeping crackdown on corruption among former elites that led to the arrests of prominent figures including former president Robert Kocharyan.

Yet while his all-out anti-graft crusade continues to keep Pashinyan's approval ratings high, some say they are disappointed by his efforts to reduce the country's widespread poverty.

As many as 30 per cent of Armenians live in poverty, and the unemployment rate is 18 per cent, according to the World Bank.

Sipping red wine at an outdoor cafe on Yerevan's central Abovyan street lined with flowering chestnut trees, 70-year-old dentist Marine Bagyan complained of "a hike in food prices that began right after the revolution."

"Elderly people can't afford to visit a doctor or buy medicines. Students have no money for tuition," she said.

"How is it possible to live on a pension of 45,000 drams ($93)?" she asked, referring to the maximum monthly state pension.

But many Armenians appear more patient when it comes to the speed of Pashinyan's economic reforms.

"Some people may feel disappointed, but that feeling isn't widespread," said Lilit Nazaryan, a 26-year-old bookshop sales assistant.

"I don't understand the people who are complaining. It's foolish to expect that the economic situation can improve as if by magic."

A landlocked, ex-Soviet country, Armenia has in the past been economically isolated because its borders with Turkey and Azerbaijan had long been closed owing to political disputes.

"We don't expect economic miracles from Pashinyan," said maths teacher Anahit Abramyan. "It will be many years before people can see serious improvements in their living standards."

"What (Pashinyan) can do very quickly is to wipe out the corruption which has become a norm of life under Sarkisian," she said.

"It looks like he has the political will to deliver on the main promise he has given to Armenians."