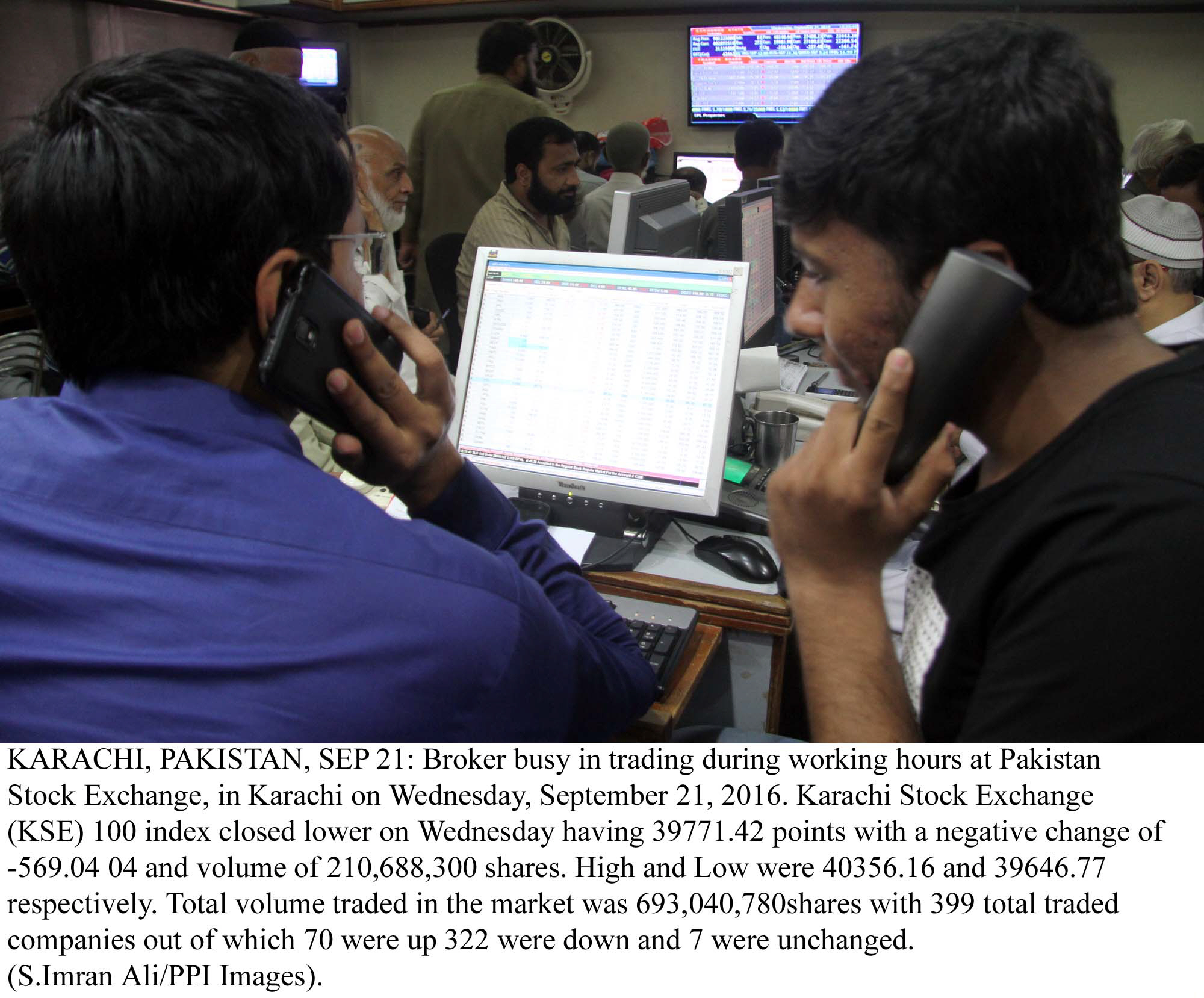 ---
KARACHI: The stock market endured a volatile ride on first day of the week, as the KSE-100 oscillated sharply between the red and green zone, swinging from over 800 points down to finish on a positive note.

Bears marred the early hours as the index plunged to a 38-month low in intra-day trading on the back of economic concerns. The index came under heavy selling pressure as investors awaited announcement of the monetary policy.

The interest rate hike and the rupee depreciation would badly hit businesses and impact their net earnings. For this reason, investors chose to exit at this point of time, said market analysts. Meanwhile, selling was witnessed in stocks across the board as the index slipped below 33,500 points.

At the end of trading, the benchmark KSE-100-share Index recorded an increase of 83.92 points, or 0.25%, to settle at 33,250.54.

Topline Securities, in its report, stated after losing over 800 points in intra-day session, the KSE-100 managed to recover and closed 84 points positive.

"Recovery was witnessed across the board. Auto and government-owned stocks remained in the limelight, where HCAR, PSMC, and GHNL closed nearly to their upper locks after HCAR's above expected financial results."

State-owned stocks like SNGP, SSGC, PSO, PTC, and NBP closed green as the government is considering creating a fund under NIT supervision to support the dwindling stock market.

"Another failure in offshore drilling kept E&Ps stocks in check during the day's session. PPL closed near its lower lock at 4.83%, while OGDC lost 1.22%."

JS Global analyst Maaz Mulla said equities closed positive with the benchmark KSE-100 index gaining 84 points (0.3%).

"Market was under duress as the rupee further plunged to hit an all-time low of Rs152 against the dollar in the open market. E&Ps were the major laggards today (on Monday), where OGDC (-1.2%) closed red and PPL (-4.8%) closed near limit down as the exploration at the Kekra-1 well off the coast of southern Pakistan has been abandoned," Mulla remarked.

Mixed sentiment was seen in cements, where LUCK (+0.5%) and DGKC (+0.7%) closed in the green zone; while CHCC (-4.5%) closed near limit down. Similar sentiments were seen in the financials as investors awaited the decision of the Monetary Policy Committee meeting regarding interest rates hike. HBL (+2.2%) and UBL (+2.2%) closed in the green zone, whereas MCB (-1.7%) and BAHL (-0.3%) closed in the red.

"We expect the market to remain choppy and volatile ahead and recommend investors to stay cautious ahead of FY19-20 budget."

Overall, trading volumes increased to 165.5 million shares compared with Friday's tally of 90.4 million. The value of shares traded during the day was Rs6.1 billion.

Shares of 343 companies were traded. At the end of the day, 207 stocks closed higher, 122 declined and 14 remained unchanged.

K-Electric was the volume leader with 12.3 million shares, gaining Rs0.23 to close at Rs3.90. It was followed by TRG Pakistan with 9.9 million shares, losing Rs0.31 to close at Rs15.28 and Unity Foods with 9.25 million shares, gaining Re1 to close at Rs9.25.

Foreign institutional investors were net sellers of Rs70 million worth of shares during the trading session, according to data compiled by the National Clearing Company of Pakistan.