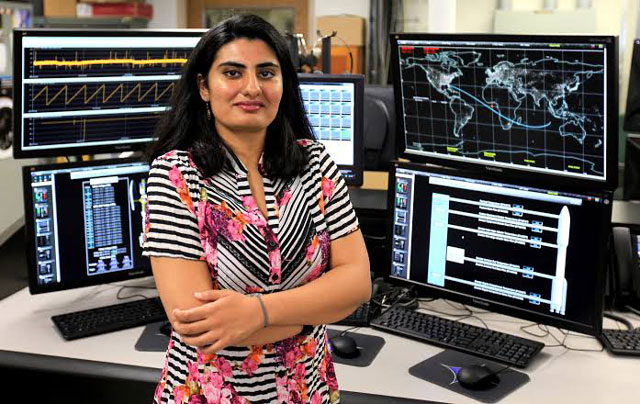 ---
LAHORE: Hibah Rehmani survived the Gulf war, lived as a refugee in Jordan, and then went on to become an avionics engineer at the United States' National Aeronautical and Space Administration (NASA).

Rehmani was born in Pakistan but moved to Kuwait with her family when she was only a month old. That was until war broke out in the country. When Iraq invaded Kuwait in 1990, she had to flee with her family to a refugee camp near the Iraq-Jordan border. The night her family reached the refugee camp, there were no tents available. Her family had to spend the nights under the open desert sky.

"My fondest memory growing up is taking walks with my family at night. Looking up at the sky I was fascinated by the moon and the stars. It was around this time I developed a passion for science, space, and astronomy," said Rehmani.

"It was a tough time for us, one of the things I remember from that night was gazing at the sky, the moon and stars, while trying to sleep on the cold desert sand. That was when I realised that I wanted to be in a profession where I could discover space."




Her father was in the US at the time of the invasion, and after a brief stay in Jordan, she travelled with her mother and sister to Pakistan, where the family reunited. They stayed in Pakistan for a year before eventually moving to the US, where Hibah was able to pursue her dream of becoming an engineer at the University of Central Florida (UCF).  After graduating, she started working for Boeing, which assigned her to work at the Kennedy Space Center as a systems engineer for the International Space Station (ISS).

"I was involved with integrated testing of ISS components and sometimes astronauts would stop by to either view or participate in the testing. It was then when I got more interested in this line of work and applied to NASA. I was fortunate and blessed enough to be selected by NASA."

"While working full time at the Kennedy Space Center, I obtained an MS in electrical and computer engineering from Georgia Tech," she said. In 2008, Rahmani accepted her current position at NASA's Engineering and Technology Directorate at Kennedy.

"I work as an avionic and flight controls engineer and support NASA's Launch Services Program, working on expendable launch vehicles and rockets. I provide technical expertise, follow launch vehicle testing, perform data reviews and provide technical assessments of engineering issues."

"Working very closely with astronauts inspired me to become one, and that is one of my life goals now," she added.

Talking about her visit to Pakistan, Hibah said, "I am meeting so many school students in Pakistan and they have inspired me instead of me inspiring them. Their questions and interest in this field amazes me. They asked me so many questions about space...I had not thought about such things before. If students, especially girls in Pakistan, get the support of their families and opportunities like I did, I am sure they can do wonders in the world".

Rehmani also provides real-time updates to NASA's LSP Twitter and Facebook accounts during launch countdowns when she is not providing engineering support to the mission staff.

Rehmani's advice for Pakistani woman and youth who want to follow her footsteps was to persevere. "My experiences of life have taught me to always dream big and never give up. You will encounter obstacles in life, but do not let that discourage you from the pursuit of your passion. With hard work, consistency, and focus, there is nothing in the world that you cannot achieve. In STEM (Science, Technology, Engineering, and Mathematics) fields, you may not see as many women as men, but don't let that discourage you. It doesn't matter if you are a man or a woman. Your passion and determination will make way for you," she explained.

I was very fortunate growing up because my parents encouraged me to pursue my dream of becoming an engineer. I truly believe that with your teachers, family, and mentors' support and encouragement you can achieve anything in life, and that is my message to all the girls in Pakistan. "Never give up on your dreams and passion," she said.

Talking about what fascinates her about Pakistan, Rehmani said, "I love coming back to Pakistan. The hospitality of Pakistanis is incomparable. I love meeting youth and students in Pakistan and enjoy our dialogues and talks."


COMMENTS (1)
Comments are moderated and generally will be posted if they are on-topic and not abusive.
For more information, please see our Comments FAQ