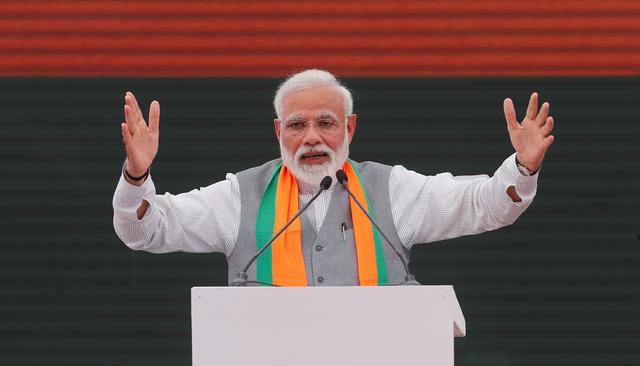 ---
Indian Prime Minister Narendra Modi on Sunday claimed that New Delhi has stopped its policy of being frightened by Islamabad's threats and said its nuclear capabilities are not being kept for Diwali.

While addressing an election rally in Rajasthan, the country's premier said that, "India has stopped the policy of getting scared of Pakistan's threats", according to India Today.

"Every other day they used to say 'we have nuclear button, we have nuclear button'. What do we have then? Have we kept it for Diwali?"

Addressing an election rally in Rajasthan's Chittorgarh hours after a series of blasts rocked Sri Lanka on Easter Sunday, PM Modi said, "India is standing by Sri Lanka and is ready for any help in the time of crisis."

Imran Khan attempted to influence Indian election with 'reverse swing': Modi

Tensions between the two nuclear-armed neighbours escalated after the Pulwama attack, which killed over 40 officials of India Central Reserve Police Force (CRPF) in occupied Kashmir with New Delhi accusing banned Jaish-e-Mohammad for being behind the suicide bombing.

Within days of the attack, Indian fighter jets violated Pakistan's air space and dropped bombs in Balakot. New Delhi claimed it targeted the so-called terrorist camps of JeM, a claim not only rebutted by Islamabad but also by international media and other independent organisations.

Pakistan responded and launched air strikes the next day. Its fighter jets dropped missiles in the open space in order to convey a message to India that Pakistan had the will and capacity to hit back. Pakistani fighter jets also shot down two Indian warplanes in a dogfight. One of the Indian pilots, who ejected the downed plane, was captured.

However, as a gesture of peace, Prime Minister Imran Khan decided to return Wing Commander Abhinandan within 72 hours of his capture.


#WATCH Prime Minister Narendra Modi in Barmer, Rajasthan: India has stopped the policy of getting scared of Pakistan's threats. Every other day they used to say "We've nuclear button, we've nuclear button".....What do we have then? Have we kept it for Diwali? pic.twitter.com/cgSLoO8nma

— ANI (@ANI) April 21, 2019