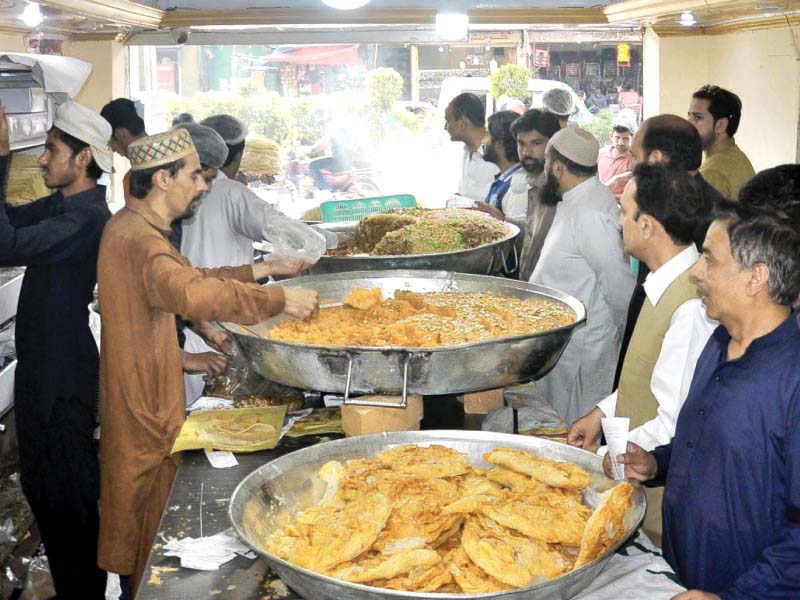 ---
ISLAMABAD: Shab-e-Bara'at was observed with traditional fervour in the twin cities of Rawalpindi and Islamabad like the rest of the country.

Mosques were decorated with lights to mark the night, believed by some to bring great benevolence of Almighty Allah. Many people observe a fast after night-long prayers

People also visit graves of the near and dear ones to pray for their deliverance. Such is the rush of visitors at graveyards that flower shops plan in advance to arrange to floral chadors and petals, besides rose water and incense for placing on the graves.

However, the tradition of fireworks has been banned by the authorities. Kalar Syedan police in Rawalpindi arrested two suspects and seized thousands of rupees worth of fireworks.

The occasion, as per local customs, sees many people cooking and distributing food, particularly the local sweet delight the ever famous halva.




According to shopkeepers at sweet shops, the festival of Shab-e-barat attracted large number of customers who purchase sweets to take as a gift for their families and friends. Our branches around the country have recorded a 60 to 80 per cent increase in sales. We have to cater to a large number of clients who have booked their orders in advance for this special day, said a manager of renowned bakery in Islamabad.

Shop owners at halwa puri shops expect to attract a significant number of customers. The outlets are brimming with richly decorated special packaging, said a customer. On the day of this holy event special sweet dishes are prepared and also distributed, especially among the poor, said a customer Irslan Hamid. Following eminent confectioners, small shops too take on a  festive look on the day.

This day is considered as a day of celebration in South Asia and specially prepared food is shared with neighbours and the less fortunate. Sweet shops and bakers arrange special items for the day. The demand of traditional sweets is on the rise as citizens have thronged sweet shops to buy delicious treats for friends, family and neighbours to celebrate the religious festival of Shab-e-Bara'at.

with additional input by APP 

Published in The Express Tribune, April 21st, 2019.