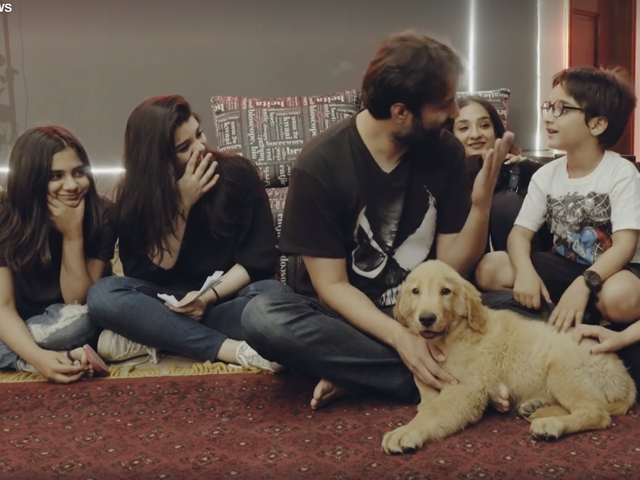 ---
Rock band Noori's frontman Ali Noor is a gifted singer. There's no doubt about it. But when it comes to his loved ones, he is a family man, through and through.

In a recent Q and A session with his fans, while casually lounging with his family, the Manwa Re singer candidly answered some of his fans queries.

"This is the first time I'm doing this, so I'll try to answer them," Noor said.

Here are the artist and his family's answers to fans:

Q: Do you want to grow your hair again?

Noor: No! I've gone bald. I'll have to get a hair transplant to grow my hair again.

Q: How old are you?

Noor (and his kids): 41!

Q: One wish that is still pending?

Noor: To be able to talk and understand animals.

Q: What stopped you from getting a degree?

Noor: I'm an LLB. I have a law degree.

Q: Do you plan on going back to concerts?

Noor: We actually have a small show coming up on April 28. We just aren't revealing any details on social media.

Q: Biryani with or without aaloo?

Noor: Without! No, with aaloo. And chicken.

Q: How many times have you fallen in love?

Noor: More than I can count. I fall in love with everything and everyone! I love Baddra! (As he snuggles his golden retriever).

Q: Do you miss being young?

Noor: I don't!

Q: How did you know Mandana was the one?

Noor: I'm supposed to answer that in front of you all? I have a very strong ESP (Extra-Sensory Perception) and I listen to it. When I met her, even though my brain didn't acknowledge it, my heart did. She's the one. It's in the stars.

Q: What do you and Sanjana (his daughter) argue about the most?

Sanjana: It's usually about food when we are cooking together or watching TV or getting electronics.

Q: Would you answer your daughter if she asks you about menstruation?

Noor (looks at Sanjana): Tell them what we talked about. We talk about it all the time. She's a pretty cool girl.

Q: What has been your happiest moment?

Noor: There can't be a happiest moment. Every moment is my happiest moment. This right here, is one.

Watch the full video here:


Have something to add to the story? Share it in the comments below.