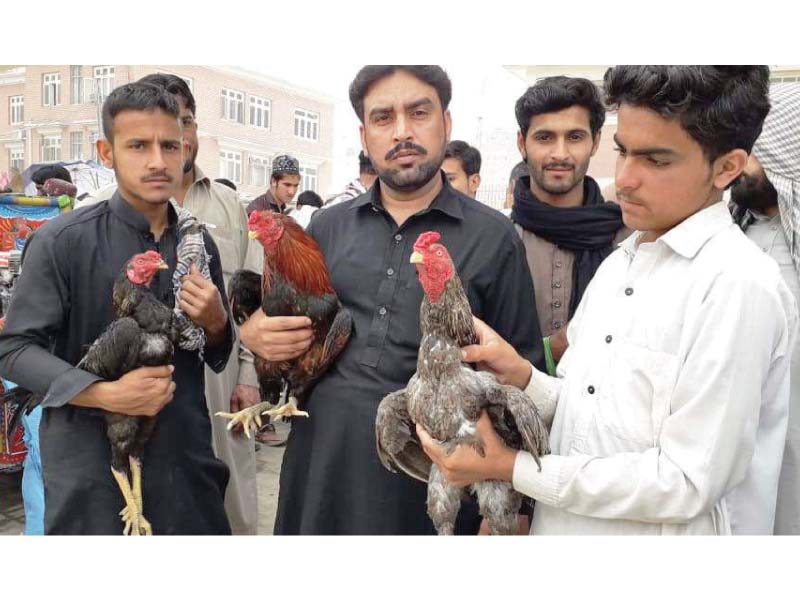 ---
PESHAWAR: When most people think of chickens, they think of food. They are highly rated by most if not all Pakistanis for its taste, but not so much for their courage or might.

Visit Peshawar's Sunday Bazaar, however, and you may catch a glimpse of the bird in a very different light, rather vicious light.

At the end of every week, the bazaar set up by outside the district and town council serves as a hub the selling and purchasing of various animals. From exotic and colourful birds to cats and rabbits, a variety of 'commodities' are brought from Peshawar's suburban areas and put up for sale.

Among all the species on display, roosters stand out in particular as a 'specialty' of the market for visitors. The reason: they are specifically bred for aggression, placed beak to beak in a small ring and encouraged to fight to the death.

In fact, the cockfighting 'spectacle' is considered a popular pastime not only in Peshawar but across the country. Although betting related to the activity has been declared illegal under the Prevention of Gambling Act 1977, this centuries-old form of 'entertainment' continues unabated.

It isn't just the adults who enjoy seeing the bloodbath created as a result of cockfight but children of all ages are also among the enthusiastic spectators whenever two roosters are forced to fight.

Niaz, a little boy who is a resident of Mithra village, is very fond of the cockerel that his family has been raising for the past five months.

Speaking to The Express Tribune, Niaz said that the cockerel is very healthy and stout and he is very attached to it. It is a common practice among the villagers to raise these birds for the purpose of cockfighting.

"Every day, I feed bread soaked in water, chicken feed and milk to the rooster," he said. "However, since the bird has now reached maturity and has become quite strong, my family is planning to sell it soon for cockfighting at a fixed selling price of Rs4,000."

Akin to Niaz, Faisal Ahmed also brings up roosters for the purpose of selling. His light snuff-colored rooster is taller than other similar birds. Therefore, Faisal plans to sell it for Rs5,000.

As he displayed the magnificent bird at the market, scores of people gathered to catch a glimpse.

There was another one at his shop but the bellicose fellow was kept inside a cage.

"This is a tall and stout rooster and it has already won several fights," Faisal said, referring to the encaged rooster. "He is quite aggressive and we will only show it to bidders," he informed The Express Tribune.

Apart from the homegrown ones, some roosters are brought to the market from different areas of Punjab, predominately Sahiwal, Multan, Gujranwala and Lahore, while some are also imported from Afghanistan.

To prepare the birds for cockfights, their natural fighting instincts are exaggerated through breeding, feeding, training, steroids and vitamins. Some owners also prefer to attach sharp objects to the bird's shanks to inflict maximum injury. It is, however, not always necessary for the winner to kill its opponent, as injuring the other bird is sometimes considered the end of the match. Every owner assigns a name of their choice to their birds. The bellicose cockerels are often referred to as 'Aseel'.

Cockfight is the favourite hobby of youngsters in the suburban areas of the Peshawar. Whenever there is a match, scores of people gather in a ground of the village where aggressive roosters are brought and put together inside a 'ring' of sorts.

In the past, cockfights were arranged on a larger scale and the fights were even advertised so that people from other areas of the province could also come to enjoy the fight. Betting was also largely carried out. The practice was, however, eventually banned.

If caught, the Deputy Commissioner of Police imposes a ban on cockfighting on the local level under the Section 144 of the Code of Criminal Procedure (CrPC) that empowers district administration to issue orders in public interest that may place a ban on an activity for a specific period of time. While the police allege people arrested for cockfights as gamblers.

According to police, by law, cockfight is not a crime but if it involves gambling, then it is considered a criminal offense. People taking part in the fight invest money, which comes under gambling. Hence, a case of gambling is registered against them.

Published in The Express Tribune, April 13th, 2019.
COMMENTS
Comments are moderated and generally will be posted if they are on-topic and not abusive.
For more information, please see our Comments FAQ