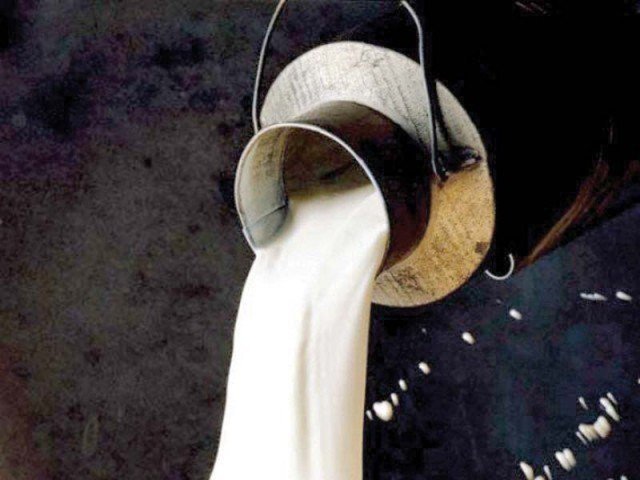 ---
LAHORE: Milk is one of the basic commodities and important in one's day-to-day life. Pakistan, with current estimates, is among five largest milk producing countries in the world and according to the Economic Survey of Pakistan 2017-2018, the annual production of milk is 57,890 million tons.

Milk is considered nature's single most complete food and is definitely one of the most valuable and regularly consumed foods. It plays a key role in health and development of human beings throughout their life, especially in childhood. Hence, ensuring the safety of milk is important in order to preserve and maintain its nutritional values.

Milk, being very rich in nutrients, is not only a source of nutrition for human beings, but provides an ideal growth environment for many microorganisms as well. Yeasts, moulds and a broad spectrum of bacteria can grow in milk, particularly at temperatures above 16°C.

Sale of adulterated milk rampant in Narowal

In addition, milk can be a potentially significant source of food-borne pathogens, the presence of which is determined by the health of the dairy herd, quality of the raw milk, milking and pre-storage conditions, available storage facilities and technologies, and hygiene of the animals, environment and workers.

It is a well-known fact that milk is a basic building block of a balanced diet and an important component for normal growth of children, hence it is important that the consumers should be able to utilise it without any apprehensions in their minds, but still the most important question on every consumer's mind, rightly so, remains, "how can I be sure that the milk I am buying is wholesome in every sense of the word".

The answer to consumers' questions, relating to the purity, therein lies only in pasteurised milk. Loose milk can transmit biological and chemical hazards; but there are effective control measures that can minimise the risk to human health, key among which is pasteurisation.

Pasteurisation is a process, which is undertaken by dairy companies that sell milk in packets or tetra packs. The process involves heating milk at a particular high temperature for a required time to ensure killing of harmful bacteria that can cause severe damage to human health.

Originally designed to ensure adequate destruction of common pathogenic microorganisms (including mycobacterium bovis, commonly responsible for tuberculosis at the time), pasteurisation can extend the shelf-life of milk by destroying almost all yeasts, moulds and common spoilage bacteria.

Routine pasteurisation of milk began in the United States in the 1920s and became widespread by 1950 as a means to reduce contamination and human illnesses. According to US Centers for Disease Control, improperly handled raw milk is responsible for nearly three times more hospitalisations than any other food-borne disease source, making it one of the world's most dangerous food products.

Introduction of pasteurisation led to dramatic reductions in the number of people getting sick. Most public health professionals and healthcare providers consider pasteurisation as one of public health's most effective food safety interventions ever.

The common misconception among consumer is that pasteurisation at high temperature denatures important nutrients of milk. According to the Food and Drug Administration (FDA), US, and the Centers for Disease Control and Prevention (CDC), "pasteurisation does not reduce milk's nutritional value".

Eateries sealed, penalised for unhygienic conditions

When it comes to safe milk, promoting and adopting pasteurisation is an indispensable step for the protection of the public health. One of the measures taken in this regard is introduction of Minimum Pasteurisation Law, which was proposed by the Punjab government in May 2017, and it states that it will be employed over the course of five year.

According to the approved regulations, PFA intends to ban loose milk supply in five years across Punjab. If implemented and executed properly, this will help the country improve the safety and health of its citizens. However, steps need to be taken at quicker and faster pace, since most of the milk in the country is marketed in raw form. Governments, all over the world, are increasing regulations to safeguard consumers' interest by introducing Minimum Pasteurisation Law to ensure base-line milk quality.

Good quality milk is the milk of normal chemical composition, completely free from harmful bacteria and toxic substances, of good flavour and adequate in maintaining quality. In our part of the world, milk is produced in a non-standardised way and is usually supplied to the consumers from the urban and rural areas by milkmen. The challenge to all food-safety policymakers is to balance necessary modifications and control measures with desired human health outcomes.

The writer is an associate professor of Pharmacology at a private medical college in Lahore 

Published in The Express Tribune, April 13th, 2019.

Like Business on Facebook, follow @TribuneBiz on Twitter to stay informed and join in the conversation.
COMMENTS
Comments are moderated and generally will be posted if they are on-topic and not abusive.
For more information, please see our Comments FAQ