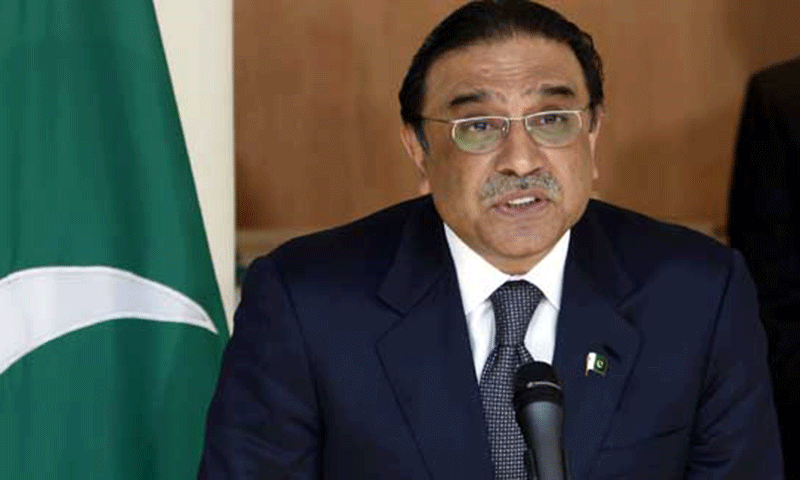 ---
ISLAMABAD: The National Accountability Bureau (NAB) on Friday expressed apprehension that former president Asif Zardari could tamper with the records pertaining to the fake accounts case by exerting his influence, and requested the Islamabad High Court (IHC) to turn down his bail plea.

The IHC had on Wednesday extended Zardari – also the Co-chairman of the Pakistan Peoples Party (PPP) – and his sister Faryal Talpur's interim bails till April 29 and directed NAB to furnish details of the on-going and pending inquiries against him.

In the reply, submitted by NAB Deputy Prosecutor General Sardar Muzaffar Abbasi, the bureau presented the reasons for opposing the interim bail granted to Zardari, saying the former president "may tamper records" if not taken into custody.

It also accused Zardari of not cooperating with the investigation.

NAB said that the probe into the fake accounts case was under way on the instructions of the Supreme Court. It added that investigations were being carried out on the basis of evidence provided in the report of joint investigation team.

"NAB has collected documentary evidence in accordance with the law," it added.

"However, it is the petitioner that is not cooperating with NAB. Moreover, the petitioner remained at influential positions. Therefore, tampering of evidence on his part cannot be ruled out," it said.

The reply said Zardari's company had obtained Rs1.5 billion in loans, and with connivance of former prime minister Yusuf Raza Gilani, illegally kept bulletproof vehicles, gifted from the United Arab Emirates (UAE) and Libya in their personal possession.

NAB insisted that it could summon anyone during the process of investigation on any issue, adding the former president had no right to know the details of the inquiries, which did not concern him.

The reply informed the court that Zardari was provided a questionnaire on March 20 and given 10 days to submit his reply.

Opposing the Zardari's bail, the NAB requested the court to turn it down, saying that the former president did not deserve any leniency, as he had misled the court. The bureau declared that it had not violated any basic right of the petitioner.