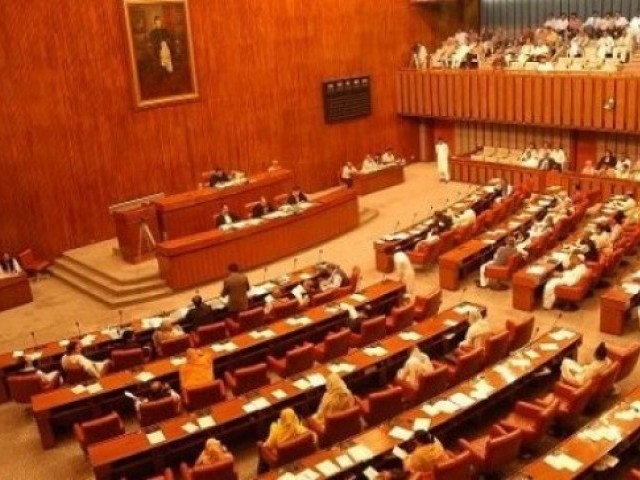 ---
ISLAMABAD: The government and opposition lawmakers locked horns during a meeting of the Senate Standing Committee on Aviation over the issue of travelling and dearness allowances (TA/DA).

Pakistan Tehreek-e-Insaf (PTI) Senator Nauman Wazir maintained that the country's wealth was being looted under the guise of these allowances.

"We won't let this carry on any further," he added.

Maula Bakhsh Chandio of the Pakistan Peoples Party (PPP) retorted that members were availing the allowances as per rules.

"The money for the TA/DA doesn't come from [Prime Minister] Imran Khan or your pocket. Don't humiliate us," Chandio snapped.

Senator Mushahidullah Khan, the chairman of the committee presiding over the meeting, described Wazir's allegation as irresponsible.

The quarrel between the treasury and opposition senators led to the postponement of the meeting without any proceedings taking place.

At the start, PPP and Pakistan Muslim League-Nawaz (PML-N) senators expressed their annoyance over the absence of Federal Aviation Minister Muhammadmian Soomro, Aviation Secretary Shahrukh Nusrat and the PIA chief executive officer from the meeting. They maintained that not attending the meeting was tantamount to humiliating the parliament.

Sacked PIA employees summoned by Senate body

The chairman informed the participants that the minister and the other officials had written letters to the body citing their engagement with the executive committee as the reason for their absence.

"Is the executive committee more important than the parliament?" Mushahidullah remarked.

"Is the parliament of no value [to them]? The ministry has adopted an extremely non-serious attitude," he added. "Ministers and secretaries have to attend these meetings."

PPP Senator Sherry Rehman said the committee meetings could not proceed in the absence of the representatives of ministries.

"Employees are being fired from the PIA," she maintained, adding that a ban was also being imposed on the national flag carrier's union.

"The current government is anti-people and anti-poor," she said.

PPP's Chandio also condemned the absence of the federal minister and officers, noting that they were answerable to the parliament.

PTI's Wazir said as per the committee rules, a grade-21 officer was present in the meeting. He added that the government was not anti-poor, and in fact it was the opposition members who were being selfish by calling a meeting of the committee to discuss allowances only.

He added that the previous PML-N government had imposed a ban on the PIA union.