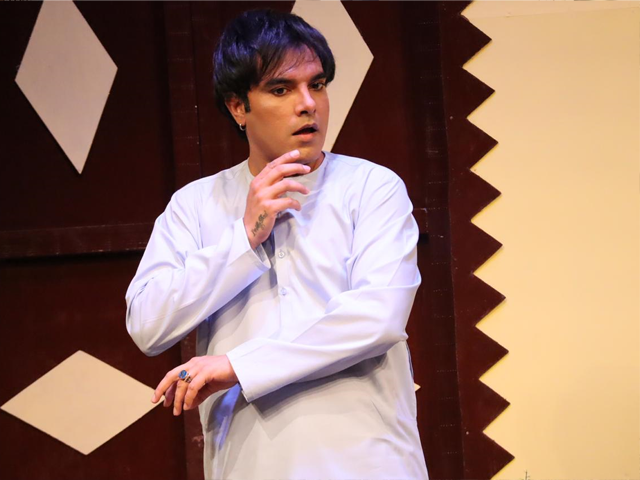 ---
KARACHI: Karachi Arts Council has been staging Anwar Maqsood-penned Naach Na Jaanay since March 1, 2019. The play is being conducted in collaboration with KopyKats Productions and is a prequel to the acclaimed Urdu play Aangan Terha.

Maqsood has teamed up with director Dawar Mahmood once again after the duo's previous productions - namely Aangan Terha, Sawa Chauda August and Pawnay Chauda August  - became fan favourites.

For Aangan Terha's prequel, Yasir Hussain was roped in to play the protagonist, Akbar. Speaking to The Express Tribune, the actor shed light on how he got to the skin of his character and prepped for the much awaited play.





"Akbar is a roller coaster of unpredictable emotions," the Lahore Se Aagay actor began. "To get those emotions right might not be very complicated but at the same time, it can get really tricky."

He added, "A classical dancer with a feminist streak has the contemporary brain of a street smart kid, yet the mannerisms of Umrao Jan. He is intelligent enough to know what's happening around him, yet has a heart of a four year old child. "

Hussain shared once he understood how to contain Akbar's emotions, the rest wasn't that difficult. The actor has been on stage for quite some time, so performing live in front of a theatre full of people is second nature to him.


PHOTO: PUBLICITY

Naach Na Jaanay marked Hussain's return to theatre after a gap of seven long years during which he has appeared in various films. Though this is not the first time he is working with Maqsood, he still sees it as a great learning opportunity, he said.

The play has been extended twice to meet the audience's demand and will now run till May in Karachi. "It would've been extended further if Ramazan wasn't coming around similar time," the Baandi star went on. "But I think this is it. We have dates for Lahore and Islamabad as well."




So how has the experience been for him? "It's always overwhelming when an entire auditorium has paid PKR2,000 per head and when the literati's and the glitterati's laugh and cry with you," Hussain responded. "I can't be more grateful but when you've breathed and lived more than half your life at the theatre, nothing seems surreal."

Talking about his experience on working with the legendary Maqsood, Hussain added, "This is the 7th production I am doing by KopyKats which has been penned by Anwar Maqsood. He's like a father, mentor, best friend! He's family now."

https://www.instagram.com/p/BvFPRLhD2w4/

Revealing one memory the thespian would take away from the play, he shared, "Salim Nasir's (actor who portrayed Akbar in Aangan Terha) elder daughter came to the show and refused to leave without seeing me. I put on the usual poker face and said, "Thank you, thank you jee" but it took me three seconds to get teary eyed and all my acting skills to make sure the audience didn't figure it out that I'm about to cry."

After Karachi, the Naach Na Jaanay team will head to Lahore and then Islamabad respectively, for two months each. The director of the play earlier revealed that most of the actors in the play are debutantes he chose out of more than 11,000 auditions.




Have something to add to the story? Share it in the comments below. 


COMMENTS
Comments are moderated and generally will be posted if they are on-topic and not abusive.
For more information, please see our Comments FAQ