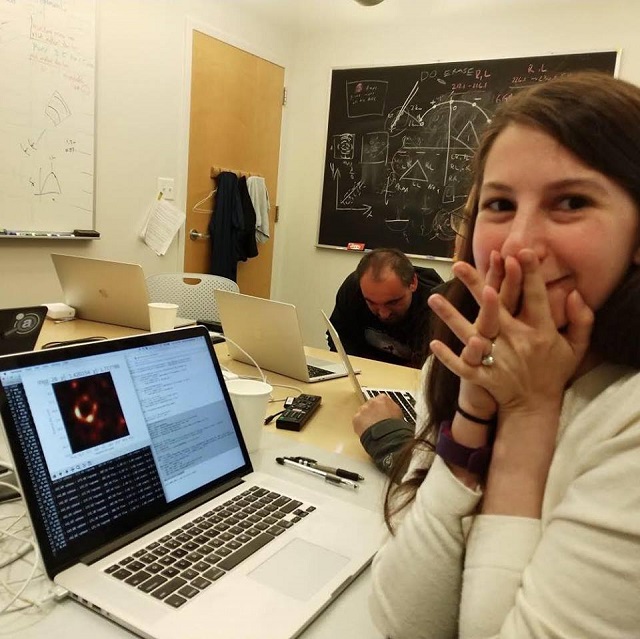 ---
While astronomers were given their due credit for unveiling the first picture of a black hole, MIT grad student Katie Bouman was the one behind the algorithm that helped capture the image.

Bouman shared on her Facebook page the disbelief as her image was being processed which was later shared via Twitter by MIT's official page.

Back in 2016, working with a team of researchers from the Computer Science and Artifical Intelligence Laboratory at MIT, the Harvard-Smithsonian Center for Astrophysics, and the MIT Haystack Observatory, Bouman had developed the algorithm which was used towards the eventual capture of the image.

NASA heading back to Moon soon, and this time to stay

Black holes are monstrous celestial entities exerting gravitational fields so vicious that no matter or light can escape This black hole is in the centre of a distant galaxy, 300 million trillion miles away from earth

A light year is the distance light travels in a year, 5.9 trillion miles (9.5 trillion km)

Residing in the middle of galaxy M87 about 55 million light years away, the large distance of the black hole from Earth meant that it capturing the image would require a large telescope, an Earth-sized one.

That's what lead to the simultaneous capture from different destinations. Event Horizon Telescope, a global network of eight ground-based telescopes was brought together to create a large telescope that would help collect light data from the black hole.

Scientists said EinsteinÔÇÖs theory correctly predicted that the shape of the shadow would be almost a perfect circle. With M87, it deviated from perfect circularity by less than 10 per cent.

ÔÇ£We found literally the proverbial hole in the middle of this galaxy, and to me, that is just stunning,ÔÇØ said astrophysicist Dimitrios Psaltis of the University of Arizona, the EHT project scientist.

IndiaÔÇÖs ÔÇÿterribleÔÇÖ space ÔÇÿfeatÔÇÖ

EinsteinÔÇÖs theory also was validated by another major astrophysics achievement announced in 2016, the detection of gravitational waves, or ripples in spacetime, arising from two black holes that smashed together.

ÔÇ£Science fiction has become science fact,ÔÇØ University of Arizona astronomy professor Daniel Marrone said.

Bouman has thanked the rest of her team in another Facebook post where she lauded the entire team effort behind the process.


This story originally appeared on Mashable.
COMMENTS (1)
Comments are moderated and generally will be posted if they are on-topic and not abusive.
For more information, please see our Comments FAQ