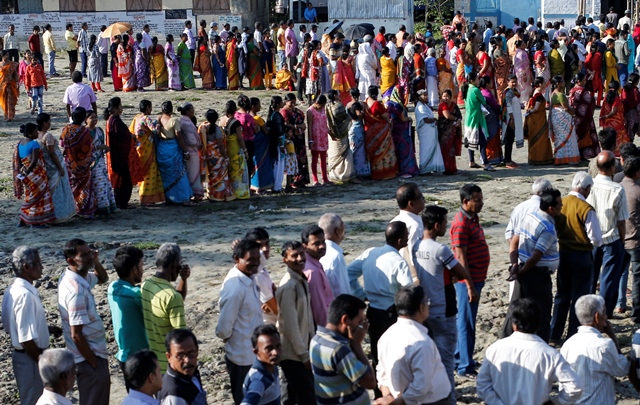 ---
Indians began voting on Thursday in the first phase of a mammoth general election, with Prime Minister Narendra Modi gunning for a second term having campaigned strongly on his national security record following a flare up in tensions with Pakistan.

Security for the polls was increased after seven people were killed in attacks in Indian Occupied Kashmir and in eastern India, where Maoist insurgents were blamed for a bomb that killed a state legislator from Modi's Hindu nationalist Bharatiya Janata Party (BJP).

Voting in the first of seven rounds is being held in 91 parliament constituencies across 20 states and federally administered regions. There are 543 seats at stake.

Modi's BJP has entered the election as the frontrunner, despite economic distress over mounting unemployment, and weak farm incomes in rural areas, where two-thirds of Indians live.




In a posting on Twitter as voting began, Modi urged people to turn out in large numbers and said the mood nationwide was running in favour of his alliance.


2019 Lok Sabha elections commence today.

I call upon all those whose constituencies are voting in the first phase today to turn out in record numbers and exercise their franchise.

I specially urge young and first-time voters to vote in large numbers.

— Narendra Modi (@narendramodi) April 11, 2019


Critics say the BJP has since sought to impose a Hindu agenda on India, emboldening attacks on Muslims and low-caste Dalits trading in beef -- cows are holy for Hindus -- re-writing school textbooks and re-naming cities.

Modi has simplified the tax code and made doing business easier, but some of his promises have fallen short, particularly in rural areas where thousands of indebted farmers have killed themselves in recent years.

Growth in Asia's third-biggest economy has been too slow to provide jobs for the roughly one million Indians entering the labour market each month, and unemployment is reportedly at its highest since the 1970s.




Rahul Gandhi, 48, hoping to become the latest prime minister from his dynasty -- and aided by sister Priyanka -- has accused Modi of causing a "national disaster".

"No JOBS. DEMONETISATION. Farmers in Pain... Lies. Lies. Lies. Distrust. Violence. HATE. Fear," Gandhi tweeted on Thursday.

"You vote today for the soul of India. For her future. Vote wisely."


No 2 Crore JOBS.
No 15 Lakhs in Bank A/C.
No ACCHE DIN.

Instead:

No JOBS.
DEMONETISATION.
Farmers in Pain.
GABBAR SINGH TAX.
Suit Boot Sarkar.
RAFALE.
Lies. Lies. Lies.
Distrust. Violence. HATE. Fear.

You vote today for the soul of India. For her future.

Vote wisely. pic.twitter.com/wKNTBuGA7J

— Rahul Gandhi (@RahulGandhi) April 11, 2019


Gandhi's Congress party appeared in December last year to profit from voter dissatisfaction, winning three key state elections and chipping into the BJP's Hindi-speaking northern heartland.

Pollsters say support for the BJP rose in response to Modi's tough stance against Pakistan, which saw aerial clashes between the nuclear-armed neighbours following a suicide attack in February that killed 40 paramilitary police in occupied Kashmir.




The main opposition Congress party, which wrested three major farming states from the BJP in December by promising to waive the outstanding loans of distressed farmers, has looked for allies among regional parties to defeat the BJP over its record on the economy.

But the upsurge in nationalist fervour has undermined the opposition strategy. "I support the prime minister's policies, especially his foreign policy," Sachin Tyagi, 38, a mobile phone shop owner, told Reuters near a polling station in the northern state of Uttar Pradesh.

"He's improved India's global standing, and taken revenge against the enemies of the country. I am happy with Modi-ji but the employment situation could be improved."

About two dozen voters had lined up at that voting centre and more were streaming in early on Thursday. Young men in jeans and shorts, older men in white kurtas and women in colourful sarees stood in the lines.




Spread over 39 days, the final phase of the election will be held on May 19, and the result will be announced on May 23. Gilles Verniers, a political science professor at Ashoka University near New Delhi, predicted Congress, led by Rahul Gandhi, would struggle to catch the BJP.

"The gap between Congress and the BJP is still enormous, so no one is seriously thinking that Congress is going to fill that gap," he added. "The opposition landscape remains heavily fragmented."

An average of four opinion polls showed the BJP-alliance on course to win 273 of the 545 seats in the Lok Sabha, the lower house of parliament, a much-reduced majority from the more than 330-seat majority it scored at the last election.

In the 2014 general election, the BJP alone won a landslide 282 seats, securing a clear single-party majority for the first time in decades and raising hopes of economic reform after a period of sluggish growth.




In Uttar Pradesh, which sends more lawmakers to parliament than any other, Ajesh Kumar, who runs a roadside restaurant, said he voted for the BJP in 2014, when Hindu-Muslims riots in the area killed at least 65 people, and would do so again.

"But jobs are a problem here," he said, echoing government and private statistics that show Modi's government has failed to create enough work for the millions of young Indians entering the labour force each year.

Almost 900 million of India's 1.3 billion people are eligible to vote. The first phase of voting covers an electorate of 142 million.

From sugar farmers in northern India going unpaid for produce, to small businesses in the south shut because they are unable to meet the requirements of a new, unifying national tax, discontent over the economy has brewed for months.

A Reuters analysis of 50 pledges from the BJP's 2014 manifesto showed Modi only partly fulfilled, or did not fulfil, most promises on the economy and business.




Having won only 44 seats last time, Congress is trying to rebuild its appeal, and has promised monthly handouts of 6,000 rupees for the poorest families. It hopes to win enough seats to lure regional parties opposed to Modi to back it after the election and form the government.

Facts and figures

The Indian election is an exercise in democracy the likes of which the world has never seen.

One-eighth of the world's population -- roughly 900 million people -- are eligible to vote over April and May in the largest democracy on the planet.




It is a logistical undertaking unrivalled in scale.

Ballots will be cast at a million voting booths across the world's second-most populous nation, from the Himalayas in the snowy north to the tropical coasts more than 3,000 kilometres (1,860 miles) away to the south.

Here's what you need to know about the biggest election in history:

All Indians over 18 years of age are eligible to vote.

That is roughly 900 million of India's 1.3 billion people, according to the Election Commission, the body tasked with overseeing the monumental endeavour.

Eighty-four million first-time voters were added to the electoral roll since the last poll in 2014.




A little less than half of the eligible voters are women, while 300 million are illiterate. Some 39,000 identify as transgender.

Since 2010, Indian citizens abroad have also been allowed to vote.

There are close to 2,300 political parties registered in India -- but only seven are recognised at a national level and 59 at a state level.

In the last election, several hundred parties fielded more than 8,000 candidates for the lower house of parliament, where 543 seats are up for grabs.

Prime Minister Narendra Modi's Bharatiya Janata Party (BJP), and the opposition Congress party of his main rival Rahul Gandhi, dominate the political landscape.

But minor parties play a critical role in the event of a hung parliament, as the major players seek coalitions to form government.

Winners are decided by a first past the post system, so the candidate with the most votes in each seat is elected.

The election stretches nearly six weeks, with voting held in seven different phases to ensure all polling booths are prepared and security is in place.

Around 10 million officials will enforce the election rules, including that no voter has to travel more than two kilometres to cast their ballot.




This creates some near absurd scenarios. This year, a nearly 20-strong team of election and police officials will trek into the jungle to set up a polling booth for a single voter in India's remote Arunachal Pradesh state.

Votes are cast via electronic voting machines, first trialled in India in 1982.

This year millions of machines will be deployed -- some taken by camel and helicopter -- to hard-to-reach electorates.

EVMs are battery powered and resemble a briefcase. Despite allegations of hacking, India's Election Commission says there is no proof of tampering in the past.

This year, a receipt will be printed every time a voter casts a ballot, and the slips collected in a sealed box.

Each voter's index finger on the left hand is then marked with an indelible blue ink -- manufactured in a single Indian city in the country's south -- to ensure they don't vote twice.




The final day of voting is May 19, with the results declared four days later once counting for all 543 constituencies is complete.

There could be a slight delay, as the Supreme Court has ordered a random inspection of EVM results against the paper receipts collected from some polling stations.

In the case of a clear mandate, the results can be determined by noon. But if no one party gets a majority, it could take days for a new government to take shape.

In 2014, the BJP won 282 seats, 10 above what is needed, to form the first majority government in three decades.
COMMENTS
Comments are moderated and generally will be posted if they are on-topic and not abusive.
For more information, please see our Comments FAQ