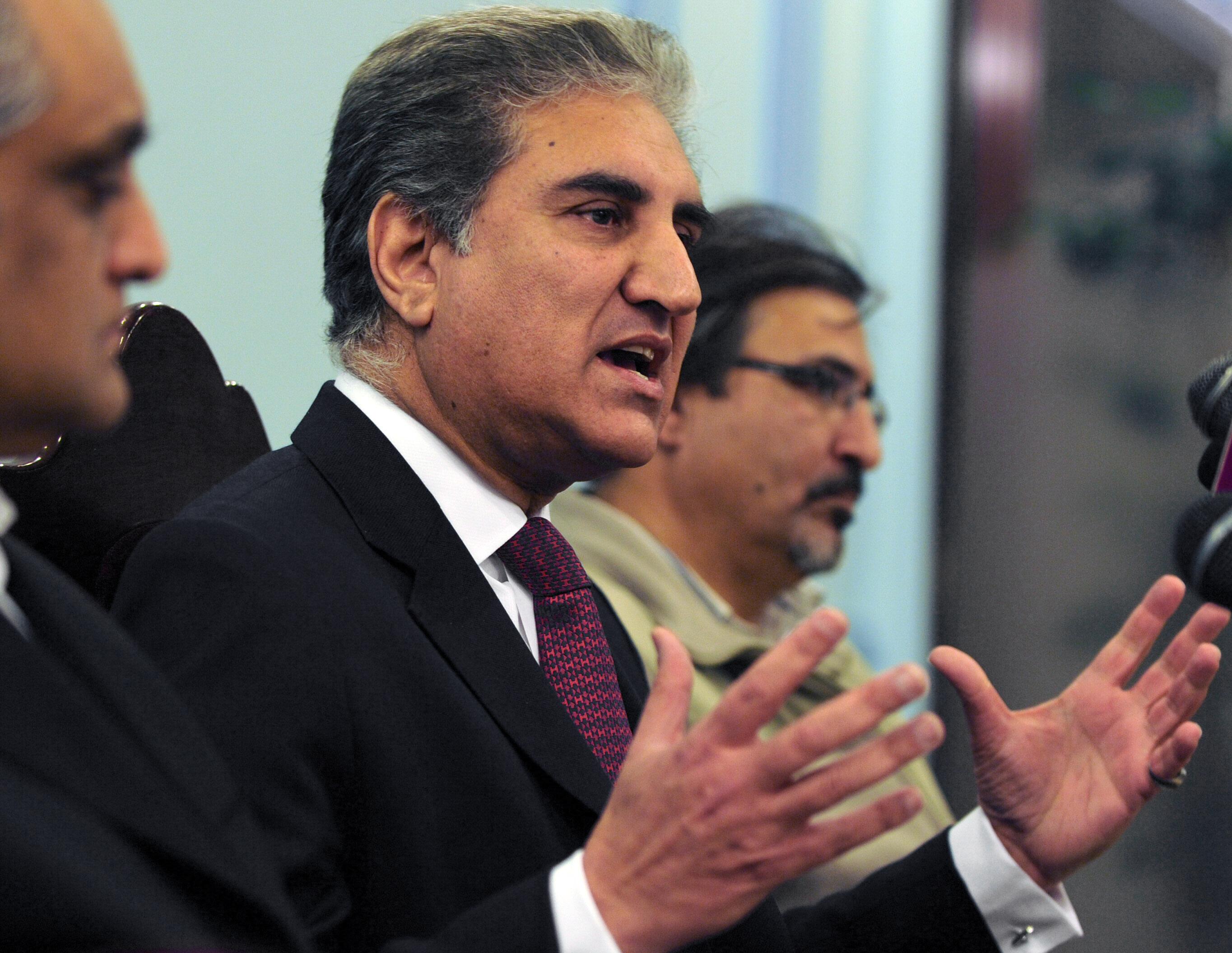 ---
ISLAMABAD: Foreign Minister Shah Mehmood said on Wednesday the only way forward for Pakistan and India was to hold bilateral talks for the resolution of their disputes and stressed the need for a "responsible behaviour" from other countries towards the region.

Addressing the national conference on 'Strategic Stability in South Asia' in Islamabad, Qureshi said that conflict resolution was the key to any successful strategic stability arrangement in South Asia, adding that Kashmir settlement would guarantee peace in the region.

He said that Pakistan would continue to conduct as a responsible nuclear state and opposed any conventional or unconventional arms race and it also expected responsible behaviour from other countries as well with regards to the regional development.

"Pakistan's conduct as a nuclear state would continue to be responsible as it is against the conventional and unconventional arms' race in the region," he said. "We also like the outside players to be mindful of their responsibility in terms of arms supply to the region in pursuit of their geo-political strategy."

He warned that India's joining of the Nuclear Suppliers Group (NSG) would create instability in the region. He also cautioned the countries which were supplying arms to India to also think about the regional peace.

Reiterating Pakistan's commitment to peace and stability, the foreign minister mentioned the proposal for a strategic restraints regime. "This proposal remains on the table and Pakistan hopes that it will be the foundation of peace and stability in the region during years to come," he said.

Qureshi emphasised that dialogue was the only way forward for Pakistan and India as Pakistan strongly believed that peaceful neighbourhood was essential to prosperous societies on both side of the border. Conflict resolution is the key to any successful strategic stability arrangement in South Asia," he said.

"Pakistan and India need to work towards peaceful environment for socio-economic stability for our people, only then the longstanding prosperity can be achieved," he added. "Resolving Kashmir issue will be the guarantee of longstanding peace in the region."

The minister said that India's denial of right to self-determination to the Kashmiris coupled with deliberate human rights violations in the occupied region has resulted in an active freedom struggle movement among the Kashmiri youth.

"This is the reason the freedom struggle in occupied Kashmir has gained momentum and caught world's attention," Qureshi said. "What we are witnessing in Kashmir is the backlash of Indian atrocities inflicted upon the Kashmiris."

He said that India's massive accumulation of conventional arms, along with an offensive doctrine and introduction of anti-ballistic missile systems to the South Asian region were the developments that concerned Pakistan.

"Recent belligerence displayed by India against Pakistan is a clear manifestation of threats to regional stability. As a peace-loving country, Pakistan wants normal relations with its neighbour; however, we are equally capable of replying to any attempt that will cost our national security and integrity," he said.

Qureshi said that Pakistan has taken concrete steps to ease tension and work for friendly relations with India. Inception of Kartarpur corridor is the proof of Pakistan's dedication towards peace, he said. "Our neighbour (India) also needs to understand that the only way forward is dialogue," the minister added.

Earlier, Human Rights Minister Dr Shireen Mazari told the conference that India engaged in a dangerous brinksmanship after the Pulwama suicide attack because of Pakistan's defensive response to aggressive Indian actions including violations on the Line of Control (LoC) in the past.

However, Dr Mazari added that Pakistan's firm response to Indian aggression alongside the moves for de-escalation conveyed to New Delhi that if compelled, Pakistan "could prevail at any level of conflict".

She proposed seven steps for establishing strategic stability, which included, pre-crisis management mechanism; strategic dialogue on reduction in missile deployments; improving the advance missile test notification system; expanding the lists of nuclear installations exchanged annually; freezing deployment of S-400 ABM systems; conventional force reduction including offensive weapon system; and establishing a strategic dialogue structure.

Director General Arms Control and Disarmament Affairs at Strategic Plans Division Brig Zahir Kazmi, in his comments on strategic stability, said Pakistan would respond not only to India's "intent, but also to its ever multiplying and growing capability".

Brig Kazmi said credited Pakistani leadership's statesmanship and restraint to the prevention of escalation of the recent most crisis. He emphasised the need for conflict resolution instead of crisis management.

On the occasion former high commissioner to India Abdul Basit spoke about the shift in Indian polity from its secular basis to a Hindutva one and its approach towards Pakistan, involving a dangerous proposition of "limited strikes".

In view of the projections that the ruling Bhartiya Janata Party (BJP) could win the general elections and again form the next government, Basit said he was not hopeful that any meaningful engagement between Pakistan and India, even over the next five years would take place.

Basit's views were also shared by former foreign secretary Riaz Khokhar. Khokhar observed that even if the dialogue between India and Pakistan resumed, it would be unlikely to yield meaningful results because of the current state of relations.

Former Defence Secretary Lt-Gen (retd) Asif Yasin Malik hoped that the resolution of Afghan conflict would reduce Pakistan's vulnerability. He called for paying attention to the water issue, saying that India had already damaged the arrangement under Indus Water Treaty.

Executive Director of the CISS Ali Sarwar Naqvi, Dr Mujeeb Afzal, Dr Zafar Nawaz Japal, Dr Naeem Salik, Dr Mansoor Ahmed, Ashraf Jehangir Qazi, and Director General Disarmament at the Foreign Office Kamran Akhtar also spoke on the occasion.
COMMENTS
Comments are moderated and generally will be posted if they are on-topic and not abusive.
For more information, please see our Comments FAQ