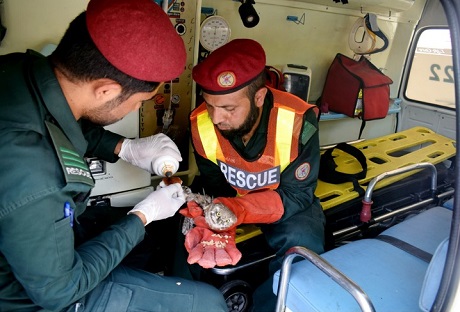 ---
RAWALPINDI: Emergency services on Tuesday freed an owl after it got trapped and injured on a tall tree in Rawalpindi.

According to Rescue 1122 personnel, the bird was stuck up on a tree with the kite string on Saidpur road.

After being informed about the incident, the rescue team promptly acted and provided the owl medical aid and set it free. Local people appreciated the kindness of the rescue officials.

Rescue 1122 saves 1.09 million lives in 2018

According to Rescue 1122 Director General Rizwan Naseer, the rescue service tended to around 1.09 million victims during 1.03 million rescue operations in 2018 while maintaining an average response time of seven minutes.

He had highlighted the statistic during the annual performance review meeting at Rescue Headquarters on January 1.

The data shows a 30% increase in the number of emergencies compared to 2017.