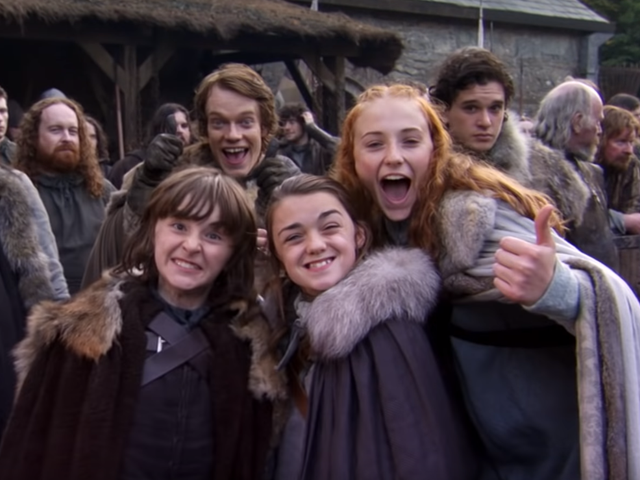 ---
Looks like we've finally made it to Game of Thrones week. Well, almost.

In just a few days, the final season of the hit HBO series will begin, kicking off the last chapter of an epic nearly a decade in the making. That doesn't mean HBO is about to drop any spoilers on us, but they're certainly prepared to take a long, loving look back at how we got here.


To that end, the show's official YouTube channel a new video under the title, The Cast Remembers.

In the video, which feature interviews with the cast alongside behind-the-scenes footage from the first seven seasons, each of the major surviving stars of the show takes a look back at their first days on set, their favorite moments, and the Game of Thrones plot developments that shocked even them.

Here's the breakdown on what the cast revealed:

First reaction when the role was offered:




Peter Dinklage (Tyrion Lannister):

When they first told me they were interested in me for a fantasy show, I was like 'Ugh, no.'"

Rory McCain (The Hound):

I had an inkling, reading the book, saying Oh my God, this is amazing. This could really kick off.

Maisie Williams (Arya Stark):

I was quite young and I had such a big imagination and I had to really convince myself that I was there and it was really happening.

Isaac Hempstead Wright (Bran Stark):

I've never had any experience of acting before.

First day of the show:




Kit Harrington (Jon Snow) 

It was a very quick scene where I'm walking down the ramparts and I'm so nervous.

Emilia Clarke (Daenarys Targaryen)

Yeah, I remember my first day on set! I fell off a horse!

Nikolaj Coster-Waldau (Jaime Lannister)

My first scene was the shot we had from the pilot. The King's arrival.

Sophie Turner (Sansa Stark)

I remember it vaguely but I remember being so overwhelmed and terrified!

Lena Headey (Queen Cersei)

I remember everybody clear. I remember baby Sophie, baby Maisie and baby Isaac.

The most shocking scene:




Turner:

The most shocking scene that I didn't see coming was (Ned Stark's death). From then on, I started to distrust the show as to whether they'd kill my favourite character on the show or not.

Harrington:

I think the most shocking was probably my death.

Hempstead-Wright:

The Hodor moment, I couldn't quite believe. That was such of a 'Oh My God!'

McCain:

The Red Wedding. I cried like a baby!



Favourite day of shooting:




Turner and Williams:

The day we reunited.

Coster-Waldau: 

The loot train sequence.

Clarke:

Season three. Getting the unsullied. It was really cool!

Iain Glenn (Jorah Mormont):

When we did the gladiatorial scene. My little girl was there and she saw her papa work.

McCain:

The fight sequence between The Hound and Brienne of Tarth.

Harrington:

Iceland, season two. It was a scene where I was unable to behead Ygritte.

Favourite actor to work with:




Harrington: 

There was something really special about working with Rose (Ygritte).

Hempstead-Wright:

John Bradley (Samwall Tarly)

Headey:

Mark Addy (King Robery Baratheon)

Clarke: 

Iain Glen (Jorah Mormont)

Glen:

Emilia Clarke (Daenarys Targaryen)

Bradley:

Kit Harrington (Jon Snow)

Turner:

Lena Headey (Queen Cersei)

Have something to add to the story? Share it in the comments below.