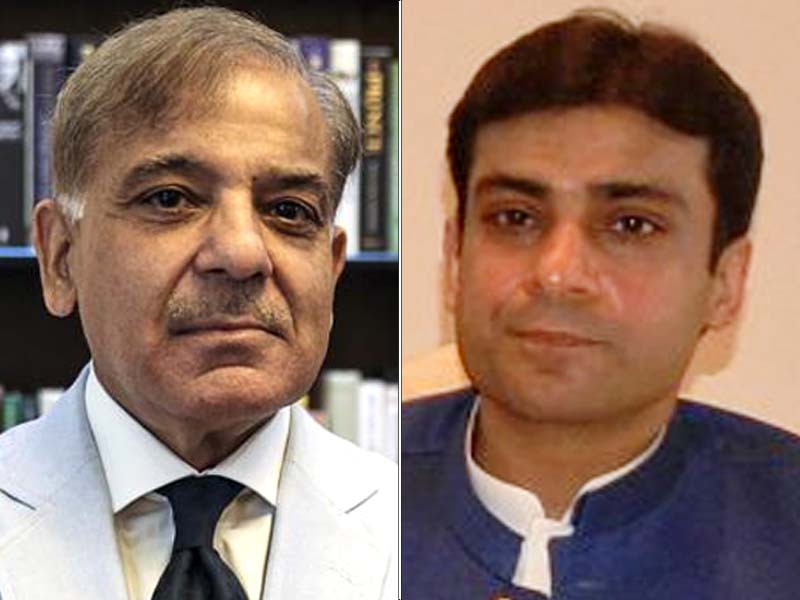 ---
LAHORE: The National Accountability Bureau (NAB) has summoned the Pakistan Muslim League-Nawaz (PML-N) leaders – Shehbaz Sharif and Hamza Shehbaz – at its headquarters in Lahore to quiz the father-son duo in connection with asset beyond means case.

NAB team will interrogate Shehbaz at Lahore' NAB Complex at 11am while Hamza has been summoned on Wednesday. NAB has asked Shehbaz to bring with him a written reply to questionnaire that was given to him in Dec 2018, when he was in NAB's custody in connection with Ashiana Housing Scheme case.

The anti-graft watchdog has sought documents and details of transactions into the father-son duo's bank accounts and that of their family members. It has also sought documents regarding details of inheritance Shehbaz received from his father, Muhammad Sharif; assets owned by his spouses, including the year, cost of acquisition/construction  and sources of funds.

NAB has called for  sources of foreign remittances of Rs1,122,291,307 received in year 2009 and year 2007 by Nusrat Shahbaz Sharif; all foreign assets (bought/sold) owned by Shehbaz including the year, cost of acquisition, title documents and sources of funds.

It has also demanded information regarding all foreign bank accounts including the bank statement, all gifts (including the cash or any other gift) given to family members, houses and plots gifted to spouse(s) located at Whispering Pines Resort, Mauza Makhnial, Tehsil Hasilpur, including the title documents and vehicles received as gifts as declared by Shehbaz in election documents.

NAB opened assets beyond means case against Shehbaz's family after he told the anti-graft body during his incarceration that his son Salman Shehbaz looks after his financial matter. Later, NAB formed a committee to look into the matter and opened an assets beyond means case after finding evidence.

Hamza's alleged 'front man' nabbed at airport

Meanwhile, the Federal Investigation Agency (FIA) on Monday also arrested from Lahore airport a man accused to be the front man of the Shehbaz Sharif family in the NAB reference against them with regard to the 'assets beyond means'.

The federal agency took Muhammad Mushtaq into custody at Allama Iqbal International Airport while he was trying to fly abroad. He was handed over to NAB Lahore for investigation.

NAB in a statement issued later said the accused person while acting as the front man of the Punjab Assembly Opposition Leader Hamza Shahbaz and his brother, Salman Shahbaz, had transferred a sum worth around Rs500 million into the accounts of the siblings.

It said the accountability watchdog, after finding solid evidence against Mushtaq, had requested authorities to put his name on the Exit Control List (ECL) sensing his bid to flee the country. The accused will be presented before an accountability court on Tuesday (today) for physical remand.

Earlier, NAB arrested two other men – Qasim Qayyum and Fazal Dad – in view of their alleged involvement in the money-laundering and other corrupt practices.  According to NAB investigations, Qasim had been running an illegal foreign exchange business at Lahore's Sadiq Plaza from 2005-2018.

A few days back, NAB tried to raid residence of Sharif family for two consecutive days – to arrest Hamza Shehbaz. However, the bids were frustrated after the workers and guards of the PML-N offered resistance. NAB registered an FIR against Hamza's guards for torturing and hurling threats at NAB team.

LHC restrains NAB from arresting Hamza

Separately, a division bench of the Lahore High Court (LHC) accepted pre-arrest bail request of Punjab Assembly Hamza Shehbaz and asked NAB authorities not to arrest Hamza till April 17.

The LHC bench, headed by Justice Malik Shahzad Ahmad Khan, issued notices to NAB, seeking para-wise comments by April 17, and directed Hamza to furnish bail bonds of Rs10million.

As Hamza appeared before the bench, a short dialogue took place between Justice Malik Shahzad and the PML-N leader. Justice Shahzad said it is difficult to hear in presence of such a big crowd "that has been called here". Hamza said he had not called anyone. "It is your job to control them otherwise we will initiate in-camera proceedings next time," the judge replied.